axis vMerchant Overview for axis diplomat Users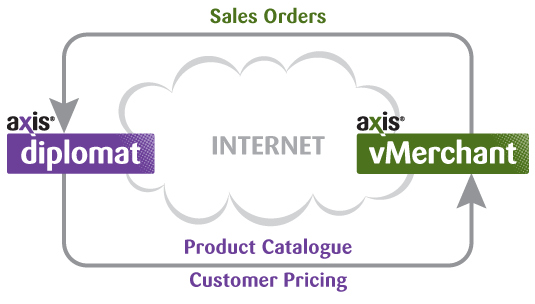 In essence, axis vMerchant works as follows:
Product information (descriptions, categories, prices, pictures, etc.) is automatically published to your website from your axis diplomat Stock Ledger.
Customer-Specific information (pricing, order history, current statement, login credentials, etc.) is automatically published from your axis diplomat Sales Ledger.
Orders placed on your website are automatically imported into your axis diplomat Sales Order Processing module, exactly as if you had entered them yourself, except the customer has done the work for you!
Furthermore, in a B2C environment, new customers to your site are automatically created in your back office system (whilst return orders are automatically matched against the correct account). This allows you to use the powerful analysis of axis diplomat to analyse your sales and drive marketing campaigns (using, for example, Gap Analysis and Business Intelligence).
All pricing models supported by axis diplomat can be replicated on the website, so if you offer customers net prices, or if you have a complicated discounting structure, quantity break pricing or currency pricing, this is all supported by axis vMerchant. The basic principle is if the right price is produced by the system when you enter an order for a customer in Sales Order Processing then the right price will be displayed when that customer logs in to your website.
In a B2C environment, where typically no one is logging in, you can also offer web-specific pricing using any of the special pricing models available for trade customers.
The true elegance of the axis vMerchant solution is that none of this information needs to be entered twice since it is all automatically published to the website from your axis diplomat system; you update a price on your stock ledger and that price is automatically updated on your website.