Avaya Telephone Systems
Avaya IP Office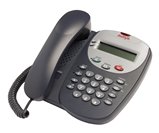 The Avaya IP Office is a modular telephone system that uses both traditional voice and latest IP telephony technology to enable businesses to reduce cost, increase productivity and improve customer service. With the Avaya IP Office you can add capacity and applications as you need them.
Scalable from between 2 and 360 handsets, this can incorporate home offices, standalone businesses and branch/head office communications.
Whether your business is large or small, Avaya has a communication solution that can help improve your business immediately and grow as your business does. Companies looking for ways in which to enable better communications between employees, customers, suppliers and partners will benefit from the intelligent communication features of the Avaya IP Office solution.
Some key benefits of the Avaya IP Office include:
Work from anywhere
Improve customer satisfaction
Protect your investment
Connect all sites
Measure customer support
Integrate applications
Look more professional
Host conference calls