September 2016 Update for Software Assurance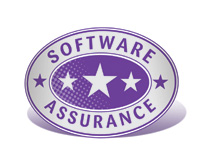 Go to Software Assurance Home Page
We are now only one month from the launch of the next major release of axis diplomat, and only two months since the previous Software Assurance bulletin, but we are pleased to announce that new enhancements are still being made available now to Software Assurance customers running axis diplomat 2014.
Below are details of a few of the recent enhancements, covering the following areas:
If you do not currently have Software Assurance and would like to discuss adding it to your support contract, please speak to your Account Manager or complete a Software Assurance Enquiry Form.
Sales Ledger & Sales Order Processing
Enhancements to Customer Enquiry & Customer Maintenance
Branch Accounts
Selecting a head office account for a branch has been made easier by including a search button (indicated by a

icon) which offers full searching capability in the same way as the generic Customers function.
Enter Payments
The function to enter a payment via the Statement tab in Customer Enquiry has been extended to allow selection of the required payment method - the operator is now able to select from a list of all payment methods marked as "MOTO" (Mail Order Telephone Order).
The dialog showing the list of outstanding transactions now indicates any settlement discount, and the cut-off date for such discounts.
Ability to Lock Customer's Delivery Method
For users with the Despatch & Delivery Management module using Best Delivery Method, there is now the ability to 'lock' the default delivery method for a specific customer, thereby disabling the best delivery method calculation for that customer's orders. This is ideal where, for example, you use your own delivery vans and you want all deliveries to a particular customer to go on a particular van route rather than by carrier.

The setting can be found on the "Delivery Details" tab of Customer Enquiry.
Reschedule Service Contract
For users of the Service Contract Management module, it is now possible to reschedule a Service Contract via a right-click on the contract's entry on the Service Contracts tab in Customer Enquiry.
Enhancements to Sales Order Monitor
For systems with the optional Stock Transaction Traceability module, Sales Order monitor tabs now include an additional column to indicate sales orders that contain at least one traceable item.
Despatch Quantity Defaults by Location
For users of both the Multi-Location Stock and Despatch Quantity Recording modules, the behaviour of the default next despatch quantity used by Sales Order maintenance functions can now be overridden on a location-by-location basis. Within Maintain Stock Locations, the Next Despatch Quantity setting may be left as "System", in which case it will follow the system-wide default behaviour, or it may be set to Zero, Order Quantity or Maximum Available.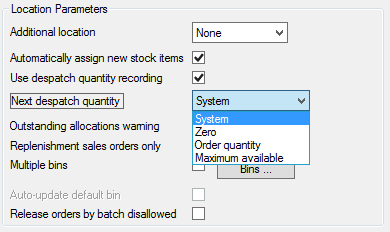 Handheld Picking by Location
For users of the Warehouse Management Module, in conjunction with handheld devices, it is now possible to indicate against each location whether picking is used; orders for non-picking locations may then be released using the traditional Release Sales Orders by Batch function.

Applications for this will include those users that have a local warehouse, where orders are picked via handheld, but also use direct shipment from their suppliers (where orders need to be released conventionally).
Purchase Ledger & Purchase Order Processing
Supplier Enquiry and 'Left' Contacts
The Contacts tab within Supplier Enquiry has been extended (matching the equivalent Customer Enquiry) to show additional columns for the status (Active or Left) and, for contacts that have left the supplier, the date that they left.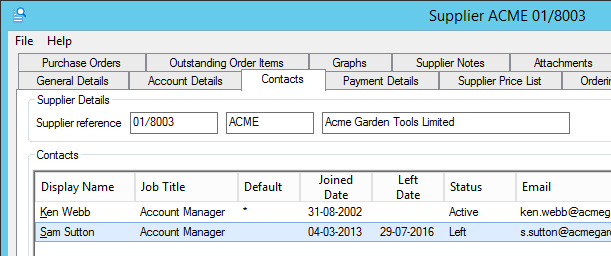 An additional tick box below the list of suppliers allows contacts that have left to be included or excluded from the list.

Purchase Order Document Delivery
We have now introduced the ability to deliver purchase orders by email or by post, matching the existing mechanism available with, for example, sales invoices and remittance advices.
A new setting on the supplier account indicates whether purchase orders to this supplier should be delivered by post (i.e. printed) or by email:

The Print Purchase Orders function now features a "Deliver All Documents" button - this will email (as PDFs) those purchase orders for suppliers marked to receive this orders by email and print the balance.

In order to take advantage of electronic delivery, your system will need to be using a Document Designer format for your purchase orders.
Stock Ledger, Bill of Materials & MRP
Enhancements to Stock Control Monitor
Additional columns have been added to the Stock Control Monitor including:
Case Quantity
AXIS Bar Code Reference
Manufacturer's Reference
GTIN-13 (EAN-13)

Bar Code Reference

GTIN-12 (UPC-12)

Bar Code Reference

Case Bar Code Reference
The various references are only shown if they have been enabled on the system (via Maintain Stock Ledger Parameters).
Enhancements to Create Works Orders from Stock
For users of the Compact MRP module who create works orders for manufactured stock items that are below their minimum stock levels, it is now possible to exclude stock allocations for sales orders that are on hold. This matches the functionality already offered by Purchase Requirements and helps ensure that you do not manufacture items that are only required because of demands from sales orders that you would not currently aim to fulfil.
Enhancements to Export Stock Details
The function to export stock details to CSV has been extended, for users of the optional Stock Transaction Traceability module, to include the traceability mode (None/Batch Number/Serial Number) in an additional column. It is also possible to restrict the stock items included in the export to just traceable items or to just non-traceable items.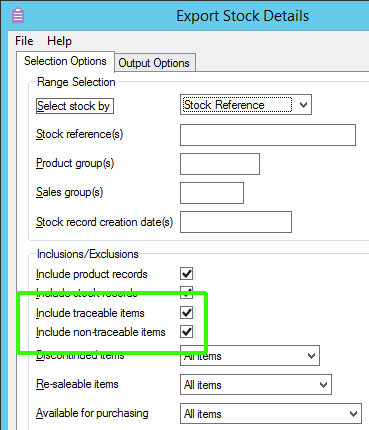 eBusiness
Stock Availability
axis vMerchant websites are able to display an availability lead time for items that are out of stock (for example, "this item is available in 7 days"). Traditionally, this has been taken from the "Default Delivery to Customer" field on the relevant stock record. A new parameter (accessed via the Maintain Sites function) allows this to be changed to instead use either the "Delivery Lead Time" from the Stock Record, a combination of both or a fixed number of days.

This allows the "Default Delivery to Customer" field to be used for other purposes (for example, when setting despatch quantities by batch).
Payroll
Show Pension Contributions on Payslips
A new parameter has been added to allow employer pension contributions on both AXIS9 and Plain A4 format payslips.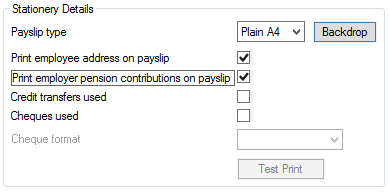 ---
If you do not currently have Software Assurance and would like to discuss it further, please speak to your Account Manager or complete a Software Assurance Enquiry Form.
Please click here to view details on the previous July 2016 Update for Software Assurance