January 2016 Update for Software Assurance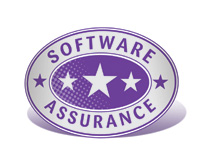 Go to Software Assurance Home Page
Although it is only one month since our previous Software Assurance bulletin, we are pleased to be able to announce a further set of software enhancements that have been developed in readiness for axis diplomat 2016 but which are being made available now to Software Assurance customers running axis diplomat 2014.
These new enhancements cover the following areas:
If you do not currently have Software Assurance and would like to discuss adding it to your support contract, please speak to your Account Manager or complete a Software Assurance Enquiry Form.
Sales Ledger & Sales Order Processing
Amend Due Date on Sales Invoices
It is now possible to amend the due date on an invoice from Sales Invoice Enquiry (reached, for example, via the right-click "Open" option on an Invoice on the Statement tab of Customer Enquiry) and selecting Edit.
This can be very useful for credit control - for example, when a staged or delayed payment has been agreed with a customer after the invoice has been raised. In these situations, by ensuring that the invoice has been updated to reflect the revised due date, reports and documents (such as debtor letters) continue to show only invoices that are genuinely overdue.
Delivery Enquiry
Whilst, for users of the Despatch & Delivery Management module, it has been possible to view the details of a Delivery via the Deliveries Monitor or from the Deliveries tab of Customer Enquiry there is now also a separate function called Delivery Enquiry. This simply allows you to enter a Delivery number in order to find the information on that specific delivery. This is ideal, for example, in situations where you do not know the specific customer to which the delivery relates.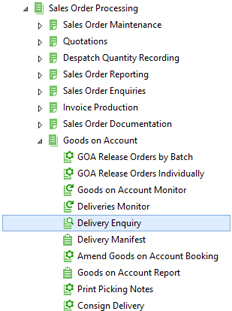 Delivery Number Searches in Customers function
Also for users of the Despatch & Delivery Management module, the Customers function has been extended to additionally search for customers given a Delivery Number. This is again useful when you need to identify a customer given only a Delivery Number.

This screenshot, for example, illustrates how a search of "14627" has identified two possible customers - one with a Sales Order numbered 14627 and one with a Delivery numbered 14627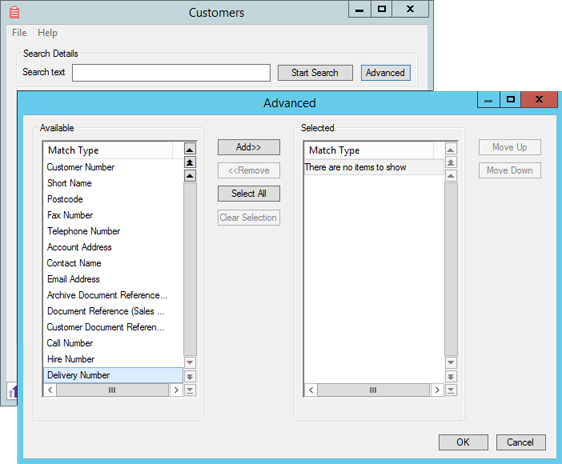 Delivery Numbers may be included or excluded from searches via the Advanced button
Supplier Stock in Sales Order & Quotation Maintenance
When entering a stock item onto a Sales Order or Quotation, on systems with the Supplier Price Feeds module, the Supplier Stock is now shown as an additional field. It also appears as a column within the scrolling list of order/quotation lines. Only supplier stock figures from price feeds that fall within the expiry period (i.e. the maximum feed age from the Supplier Account) are included.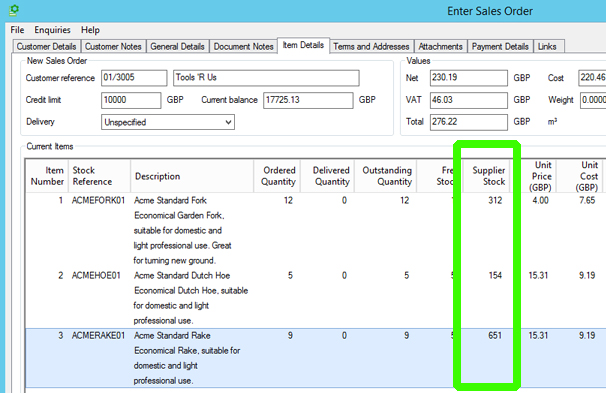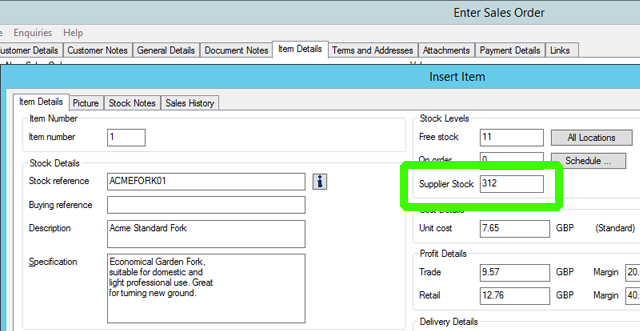 Last Quotation Date in Export Customer Details
The function to export customer details to CSV has been enhanced to optionally include a column for the date of the most recent quotation. This can be useful, for example, in filtering or sorting the data within a spreadsheet to identify those customers with recent activity.
Purchase Ledger & Purchase Order Processing
Copy Purchase Order from Supplier Enquiry
It is now possible to copy an existing Purchase Order to a new Purchase Order via a right-click option from the list of Purchase Orders within Supplier Enquiry.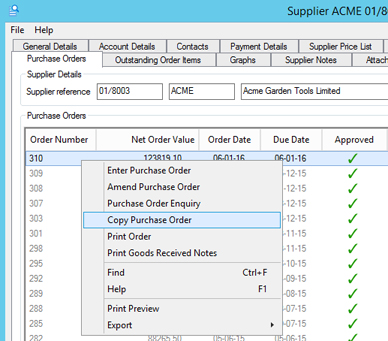 Supplier's Email Address Shown in Purchase Order Enquiry
The General Details tab of Purchase Order Enquiry now includes the email address of the Supplier's Contact associated with the Purchase Order. A button alongside the email address allows an email to be sent to that contact. This is ideal, for example, where a query has arisen or an order needs to be chased as it ensures that the required information is to hand.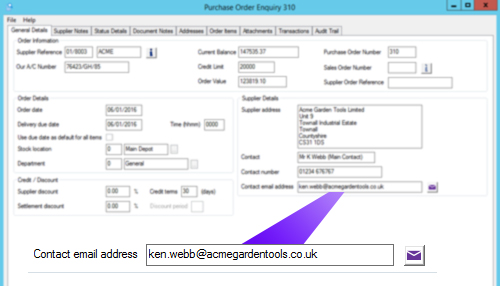 Supplier Stock in Purchase Order Maintenance
On systems with the Supplier Price Feeds module, the Order Items tab in both Purchase Order Maintenance and Purchase Order Enquiry now shows the stock available at the supplier to which the purchase order relates. The supplier's stock figures are only included if they are from price feeds that fall within the expiry period (i.e. the maximum feed age from the Supplier Account).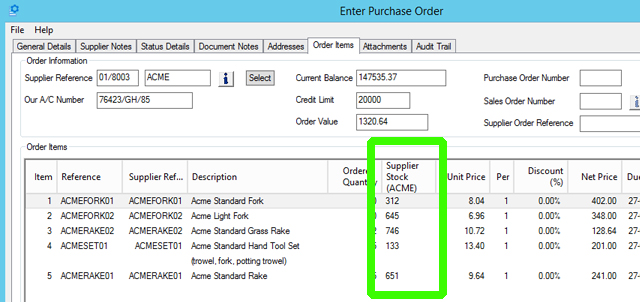 Supplier Address Label Print from Supplier Enquiry
It is now possible to print an address label from Supplier Enquiry via a button directly below the address on the General Details tab of Supplier Enquiry. This will use the same label format (designed for Zebra label printers) as is used by Customer Enquiry.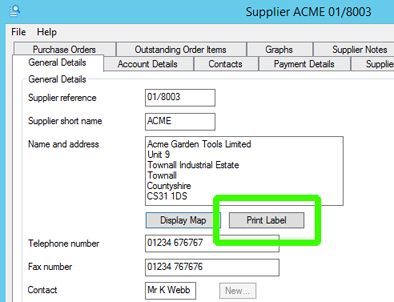 Nominal Ledger
Suppressing Consolidated Transactions from Nominal Ledger Report
At the Nominal Period End, all transactions for the period being closed are accumulated into Consolidated Transactions. The Nominal Ledger Report has been extended to optionally suppress these transactions when showing reporting on previous periods. The options now offered are for Consolidated Transactions Only, Detail Transactions Only or Detail and Consolidated Transactions. Choosing the appropriate option can significantly help improve the readability of the Nominal Ledger Report.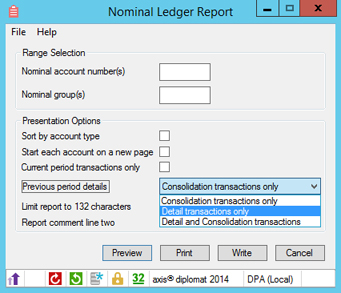 Stock Ledger
Stock Control Monitor Enhancements
Additional columns have been added to the Stock tab within the Stock Control Monitor including:
Sales Group Code & Description
Department Code & Description
Cost Centre Code & Description
Commodity Code
These additional columns are particularly useful when used to sort or filter the items shown.
Selection by Stock Type in Stock Record Block Amendment
Stock Record Block Amendment has been extended to allow selection to be filtered by Stock Record Type - i.e. stock items only or non-stocked/product items only.
Incoming Replenishment Stock figures in Stock Enquiry
For systems featuring the Stock Transfers module, the Location Details tab within Stock Enquiry has been enhanced to show the figure for expected replenishment receipts from other locations.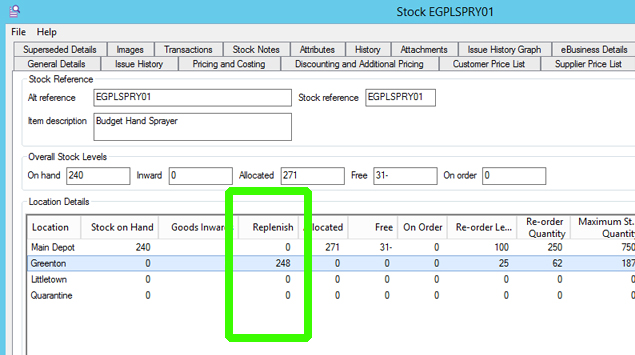 Stock Valuation using Most Recent Purchase Price
A new valuation option has been added to the Stock Valuation report allowing all stock to be valued at its most recent purchase price (i.e. the cost price from the most recent Goods Received from Supplier transaction). This could be considered as a 'replacement cost' valuation.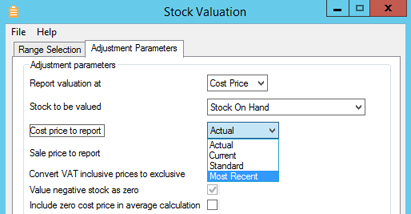 Aged Stock Valuation using Original Receipt Date
The Aged Stock Valuation Report has been enhanced to offer the option to base the age calculation on the Original Receipt date thereby ignoring the effects of internal receipts, such as movement between locations or bins.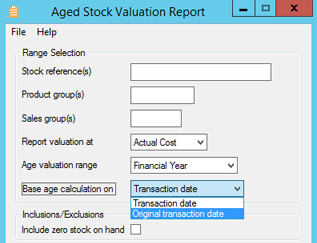 eBusiness
Export eBusiness Group Notes
A new function has been added to export all of the notes associated with the eBusiness Groups for a given site. For customers with the Multi-Lingual Stock Ledger module, the exported file can be for a selected language.
This function exports the Notes in exactly the same format as expected by the Import Stock Notes function. This makes the export ideal for situations where you want to copy notes between systems or sites as well as for loading in a spreadsheet for amendment before importing back into the system (to allow, for example, a site-wide search-and-replace operation).
Payroll
Disciplinary Events
A new event type has been added to the Payroll to allow recording of Disciplinary events. This means that records can now be kept within the axis Payroll for Appraisal Records, Salary Changes, Training, Working Time Directives and Disciplinary Events.

---
If you do not currently have Software Assurance and would like to discuss it further, please speak to your Account Manager or complete a Software Assurance Enquiry Form.
Please click here to view details on the previous December 2015 Update for Software Assurance