April 2015 Update for Software Assurance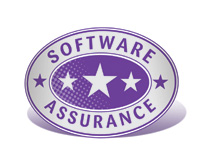 Go to Software Assurance Home Page
It has been six months since we released axis diplomat 2014 and our development team has been busy working on further enhancements. This means that we can now announce a number of new facilities that will form part of axis diplomat 2016 but which are being made available now to Software Assurance customers running axis diplomat 2014.
These new enhancements cover the following areas:
If you do not currently have Software Assurance and would like to discuss adding it to your support contract, please speak to your Account Manager or complete a Software Assurance Enquiry Form.
Nominal Ledger
Drilldown from Bank Reconciliation
The Bank Reconciliation function now includes additional columns for the contra account - for example, a customer payment will show the account reference, short name and full name of the customer in question.
Right-click context menu options now allow you to drilldown to the customer, supplier, nominal or journal as appropriate (depending on the payment type).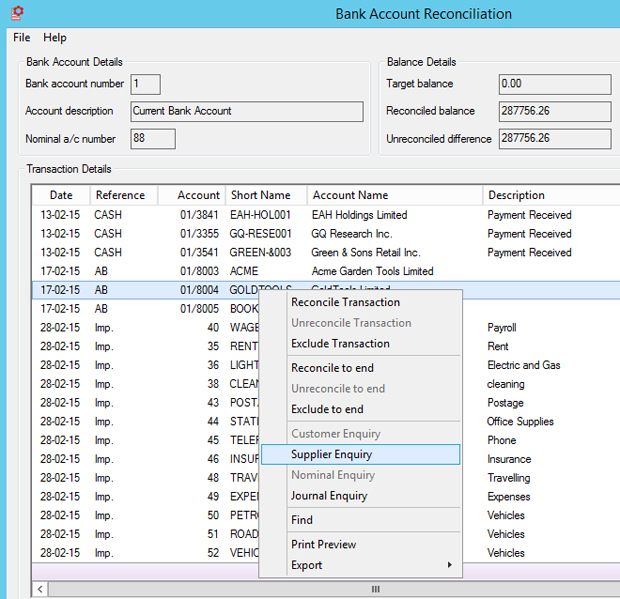 Sales Ledger & Sales Order Processing
Customer Search and Surnames
The Customer function has been extended to also include surnames within the fields that it searches - forenames were already included within the search.
Contacts List Enhancements
The list of Contacts shown in Customer Enquiry has been extended to show both the Joined Date and the Left Date. A tick box has also been added to select whether contacts that have left are shown - by default, only active contacts are now shown. A further column has been added for Status (Active or Left).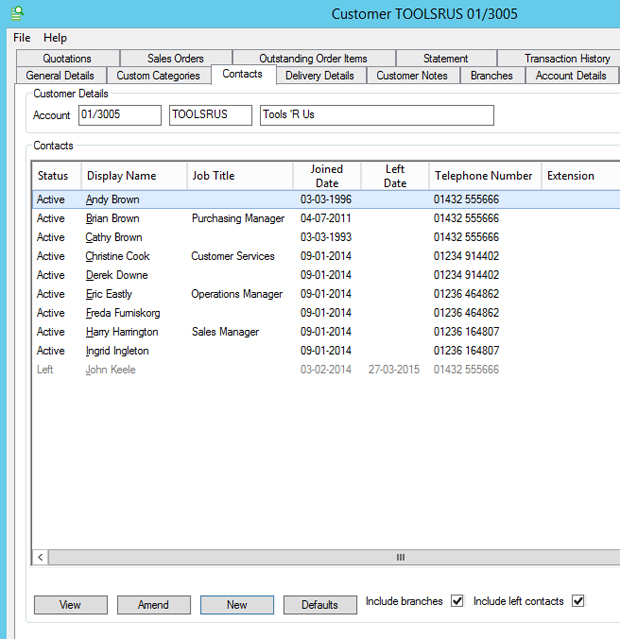 Outstanding Order Items Tab Enhancements
The Outstanding Order Items tab within Customer Enquiry has been extended to include additional columns showing the Order Age (in days) and the Item Due (in days), being the number of days from now before the order item is due; overdue items are shown as negative numbers.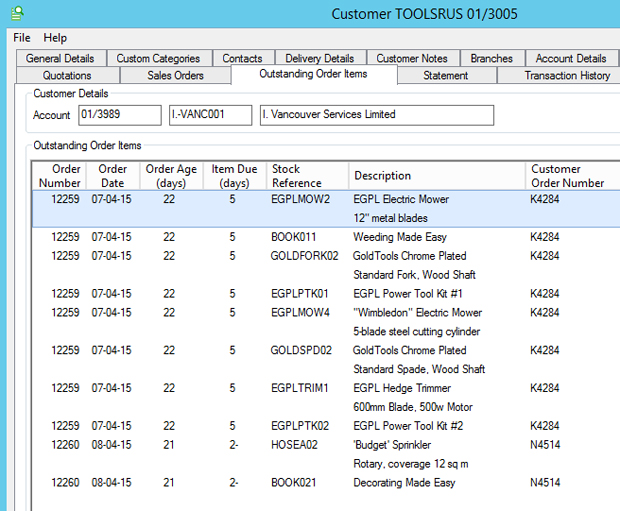 Default Delivery Method by Delivery Address
When adding additional delivery addresses to a customer account, it is now possible to specify a default delivery method for that specific address, over-riding the default delivery method for the customer.
In addition, the default delivery method can be set from a CSV file when importing additional delivery addresses using "Import Customer Records".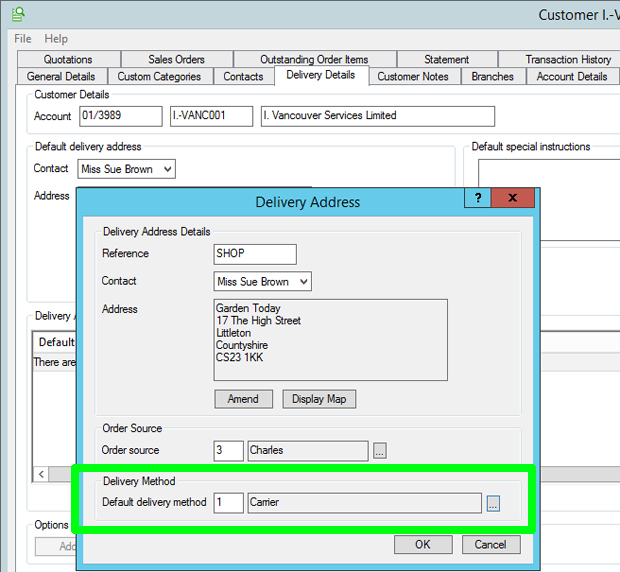 Export Customer Delivery Addresses
A new function has been added to allow customer's additional delivery addresses to be exported to a CSV file.
Export Date of First Transaction
The Export Customer Details function has been extended to optionally include a column in the CSV file for the date of the first transaction for each customer.
Profitability Details on Sales Daybook Transactions Monitor
A monitor featuring a Sales Daybook Transactions tab now includes additional columns for the transaction's profitability (amount and percentage).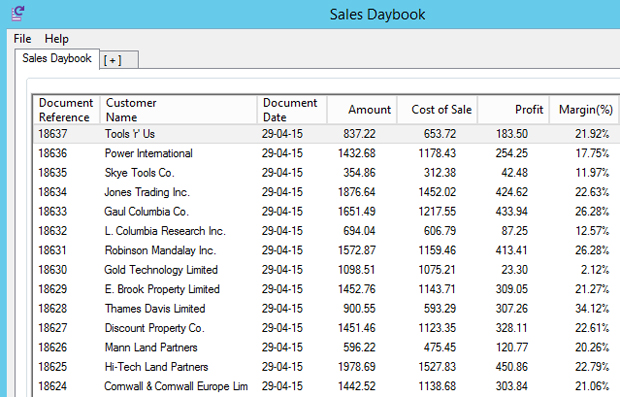 Profit shown in Sales Invoice Enquiry
The Document Details tab of a Sales Invoice Enquiry (for example when drilling down from a Customer Enquiry or a Sale Daybook Transactions monitor tab) now includes the Profit as a monetary amount as well as the margin percentage previously shown.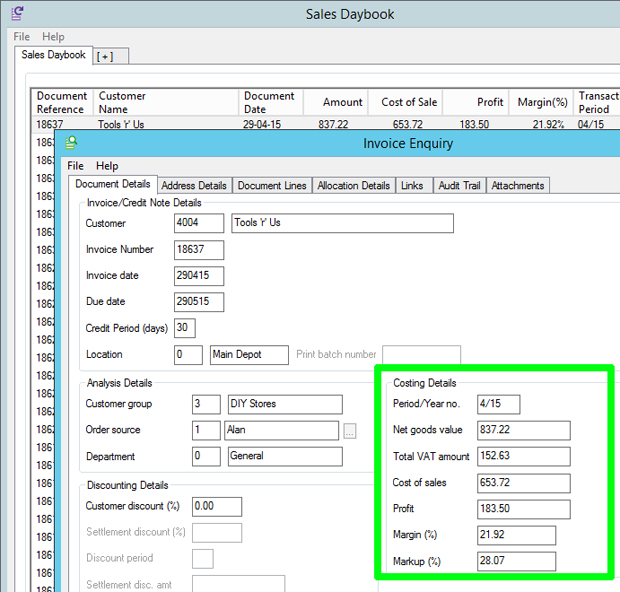 Schedule of Stock Availability in Sales Order Maintenance
When adding or amending a sales order or quotation line for a stock item, a new Schedule button (next to the On Order quantity) opens a dialog showing a breakdown of future projected stock availability, as purchase orders are due to be received and other sales orders are due to be released.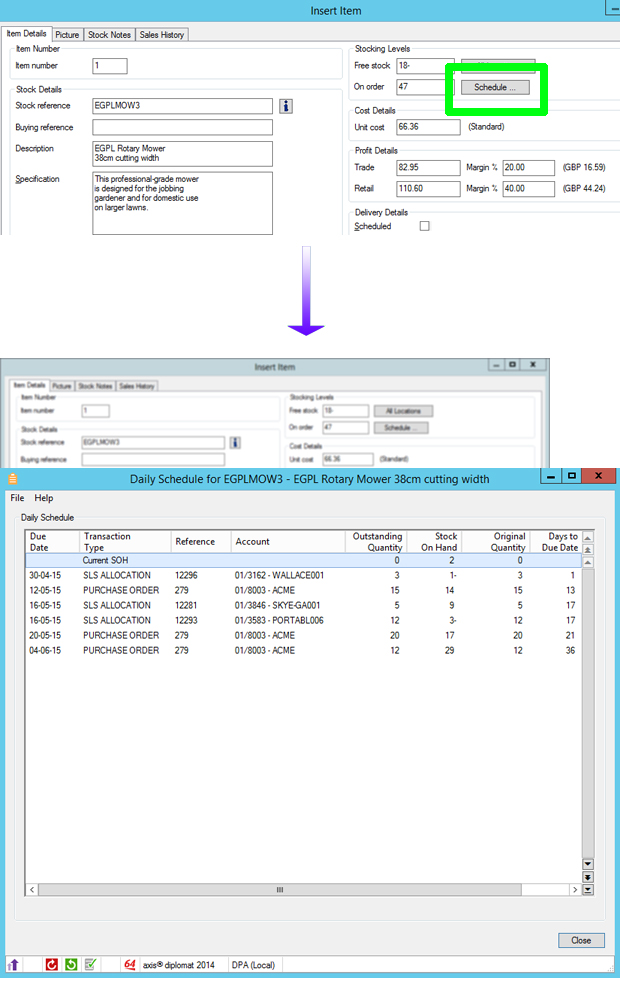 Removing Additional Description Lines from Goods on Account
The function Maintain Goods on Account Bookings has been modified to allow additional description lines to be removed from bookings.
Allow/Disallow Consolidated Order Picking
Until now, the axis diplomat Warehouse Management module would automatically combine multiple orders for the same customer for the same delivery address. This can now be controlled, on a customer-by-customer basis and is designed for those supplying customers who insist on a separate delivery note/invoice per order or part order. The default setting of this flag is determined by a system parameter but can be over-ridden for individual customers, either individually using Customer Account Maintenance or in bulk from CSV (using Import Customer Records) or the Sales Ledger Supervisor Function "Set Customer Flags".
Picking by Original Stock Receipt Date
On systems with the optional Multi-Bin module, order picking can now be based on the original receipt date. Traditionally, the 'oldest' stock (other than traceable items on systems with the Stock Traceability module) would be based on the transaction's receipt date - which might be the date it was transferred into that stock location rather than the date it was originally received by the business.
The original receipt date is now preserved and, by setting the appropriate system parameter, picking can be based on choosing the oldest stock received into the company rather than the oldest stock transfer into this location or bin.
Enhancements for Replenishment Orders
For customers with the Replenishment Orders module, Sales Order monitor tabs can now be filtered by replenishment order location whilst the Location Details tab within Stock Enquiry has been extended to show the incoming replenishment quantity for each location.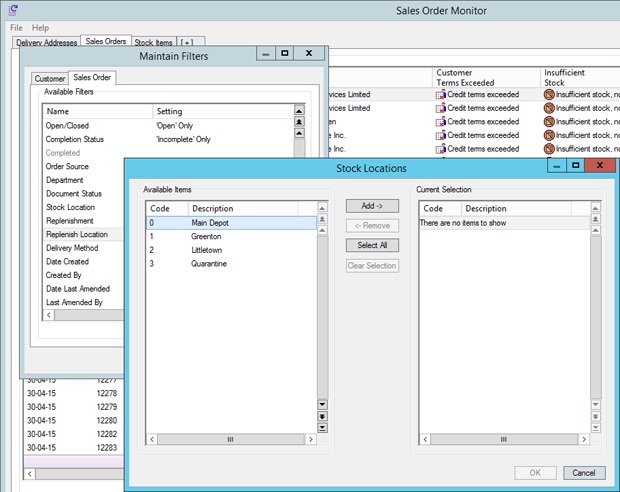 Service Contracts in Customer Enquiry
For customers with the Service Contracts module, the Service Contracts tab within Customer Enquiry now shows additional columns for the Termination Date (if set), the Contract Contact, Invoice Contact and Delivery To Contact.
Purchase Ledger & Purchase Order Processing
Purchase Delivery Advice information via Supplier Enquiry
For those with the Purchase Delivery Advice module, the Outstanding Order Items tab now also shows additional columns for the Delivery Advice Reference, the Advised Quantity and the Inward Quantity. Right-click Context Menu options now allow Delivery Advice details to be added or amended.

The tab also now shows both the Stock Description (from the Stock record) and the Supplier Stock Description (from the Supplier Price List).
Stock Ledger
Stock Transaction Monitor Tab
It is now possible to create an additional monitor tab (or a new monitor from scratch) showing Stock Transactions.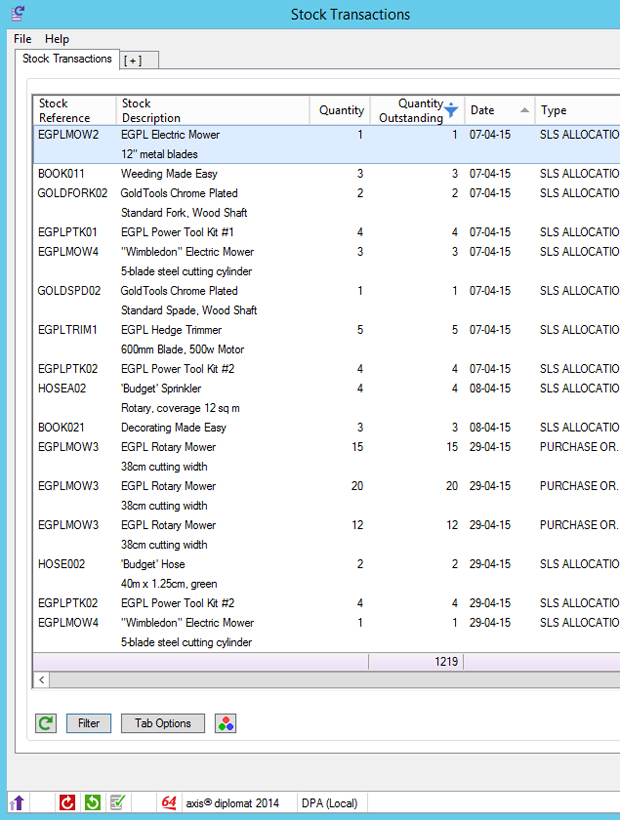 This screenshot shows an excerpt of a Stock Transactions monitor tab, filtered to just those transactions that still have outstanding quantities, and sorted to show the oldest first.
Export Stock Details
The function to export stock details to CSV has been modified to include a column indicating whether settlement discount applies to each item.
Date of First Transaction by Location
For systems with the Multi-Location Stock module, the Location Details tab within Stock Enquiry will now show the date of the first transaction against each location. This allows you to see, at a glance, when that item was first used at that particular location.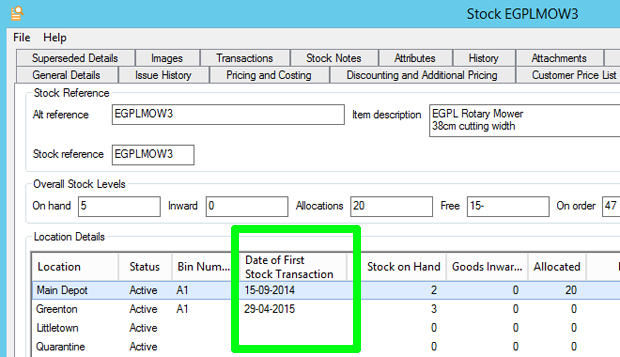 Kernel
Document Designer Email Variants
It is now possible to define a number of different sets of email parameters (known as Email Variants) for each Document Designer-based document. These parameters include the senders email address and name, subject and content text as well as a list of additional BCC recipients. Scripting allows switching of Email Variant based on a range of parameters, such as the department code, customer group or order source code (in the case of a Sales Ledger document), supplier group (for a Purchase Ledger document) or location.
This allows different styles of emails to be sent in differing circumstances - for example, retail customers could receive their invoices from sales@egpl.co.uk whilst trade customers could receive their invoices from accounts@egpl.co.uk
---
If you do not currently have Software Assurance and would like to discuss it further, please speak to your Account Manager or complete a Software Assurance Enquiry Form.
Please click here to view details on the previous August 2014 Update for Software Assurance