axis diplomat 2020 Modules
1. Accounts
The axis diplomat Accounts module represents the core of the axis diplomat range. It can be run on its own or complete with a number of other, fully integrated, additional modules, including Warehouse Management, eBusiness, Bill of Materials, Mail Order Processing and Payroll.
Every axis diplomat Accounts system includes a number of further modules as standard, in addition to the three integrated core ledgers. These include a fully-featured Stock Ledger, Cash Book, Sales and Purchase Order Processing and a powerful Customer Relationship Management (CRM) module.
1.1 Nominal Ledger
The Nominal Ledger allows the financial structure of the company to be shown in detail and takes the book keeping operations through to a Trial Balance and Draft Accounts, incorporating Trading Account, Profit and Loss and Balance Sheet.
Analysis of the Nominal Ledger is multi-tiered: information can be analysed by account, by account group, by department or by cost centre. The Nominal Ledger features all of the facilities you would expect from a sophisticated financial package, including accruals, prepayments and interfaces to the axis diplomat Payroll module. The Nominal Ledger also features an advanced set of Budgeting tools.
1.2 Sales and Purchase Ledgers
The Sales Ledger within axis diplomat provides comprehensive analysis of your trading with your customers, far beyond the essential accounting, auditing and tax requirements.
Flexible credit terms, together with support for early settlement discounts, mean that system can produce an up-to-date picture of your debtor and creditor position at any time.
Using the powerful Archiving facility, transactions (such as cash, invoices and credit notes) are retained indefinitely. This is completely automatic and requires no user intervention. The system allows you to reprint invoices months or even years after they were originally raised, whilst the accumulated data is used to provide a massive range of sales analysis information. For example, the system can show who has been buying selected products over any period of time since the system was first used. Furthermore, due to the advanced storage methods used, access to this information is, in most situations, virtually instantaneous.
The Purchase Ledger is, in many respects, the mirror image of the Sales Ledger.
Details on Suppliers, and your trading with them, are held on the system. Suppliers can be sub-divided into groups and a wide range of information held and produced for them.
As with the Sales Ledger, Purchase Ledger transactions can be retained indefinitely.
1.3 Cash Book
The Cash Book is used to manage both your Petty Cash and your Bank Accounts. Full facilities exist to cover the reconciliation of bank statements, entry and allocation of cash receipts and cash payments, along with standing orders and, on multi currency systems, support for currency bank accounts.
1.4 Stock Ledger
The Stock Ledger within axis diplomat can be used as a full stock control system or as a means to simplify invoicing and purchasing.
For systems that are to be used for full stock control, all of the functions required will be found within the axis diplomat Stock Ledger. These include stock take facilities, stock valuations and detailed stock movement analysis.
1.5 Invoicing
The standard Invoicing module allows creation of invoices and credit notes, using free-typed descriptions and prices or by utilising the stock ledger. Items selected from the Stock Ledger will automatically pick up the correct cost and selling price information and simultaneously update stock on hand figures. For systems with higher throughput, with greater lead times, or with the need to process back orders, the Sales Order Processing module may be beneficial.
1.6 Customer Relationship Management
Included as standard are a range of CRM facilities designed to allow you to manage all forms of contact with your customers and prospects. These facilities include the ability to maintain details of an unlimited number of individuals within each organisation (including, for example, email and mobile phone details), as well as the ability to build a complete history of contact with these organisations.
Further details on the Contact Management facilities can be found in the separate CRM Fact Sheet.
1.7 Additional Modules
A wide range of additional modules are available for axis diplomat: These modules cover eBusiness, multi currency, warehouse management, point of sale, mail order processing, stock traceability, bill of materials and material requirements planning (MRP). All are produced by axisfirst (not 3rd party add-ons) and are fully integrated.
1.8 ODBC Interface
For integration with 3rd party applications, such as Microsoft Office, including Word and Excel, the axis diplomat ODBC Interface allows applications to interrogate the axis diplomat data via Microsoft SQLServer.
2. Bill of Materials
The axis diplomat Bill of Materials (BOM) module provides for the maintenance of the lists of components and sub-assemblies required to make the stock items manufactured by the company. The resultant database can be used to print parts explosions (i.e. kit lists) and where-used lists, as well as detailed assembly costings. The BOM database is also used by the Material Requirements Planning (MRP) module.
2.1 Assemblies and Sub-assemblies
These are products which are made, usually in house, from a list of components. An assembly is an item which is never used in any other assembly; it is a finished stock item which can be sold. A sub-assembly is an assembly which is also used as a component in one or more other larger assemblies. It may also be a saleable stock item, e.g. a spare part, or it may be purely internal and only ever exist on the shop floor as work in progress.
2.2 Components
A component in a Bill of Materials may be classified as one of the following:

Material
Operation
Other Cost

A component may also be a sub-assembly and made up of other components. All components and sub-assemblies have a two line description and, optionally, an additional specification

Material components may be further classified as Stocked, Resaleable, Bought In or Manufactured.

Stocked materials are those for which stock levels are maintained. Resaleable materials are those items which are sold to customers and therefore have trade and retail pricing information.

Bought in materials are purchased, as required, from external suppliers. A bought in assembly item implies an assembly which is manufactured under sub-contract.

Manufactured materials are those assemblies and sub-assemblies that are made in house from their components.
2.3 Overhead Costs
The system caters for overhead costs, sub-contract costs and other user defined costs.
Overhead costs can be specifically defined for an assembly or they can be specified as a percentage overhead cost rate against materials (e.g. for handling), labour rates, machines and/or operations (e.g. heat, light and floor space) as required.
Sub-contract and other user defined costs can be set up and included in the BOM for costing purposes only.
2.4 Batch (or recipe) Costing
A costing batch quantity (i.e. a recipe quantity) can be specified for assemblies which are costed to make a batch quantity of the assembly rather than a single item.
This batch quantity may, or may not, be the same as the `quantity to make' (i.e. the manufacturing batch quantity). Its purpose is to enable the accurate specification and costing of 'trace' ingredients required to make the assembly. All requirements for quantities actually being manufactured will be automatically scaled up or down by the MRP module.
2.5 Costing Reports
Parts explosions can be printed showing current or standard costs to four decimal places. Percentage overheads can be included or excluded as required and percentage margins calculated against trade or retail prices.
2.6 Rolled Up Costing
Assembly and sub-assembly costs can be re-calculated from the component costs, including operation costs (if present), at any time, for inspection only or as a permanent update. The calculated rolled up cost can also, optionally, include any percentage overhead costs defined for the components. The roll up costings can be applied to current cost or to the standard cost figures held for each item.
2.7 Material Requirements Planning and Manufacturing
The Bill of Materials module information is also used as the basis for The axis diplomat Material Requirements Planning module.
Material Requirements Planning provides the ability to forecast the demand for materials required by manufacturing. This demand is automatically calculated based on the number and variety of customer sales orders plus any internal works orders for stock based on sales projections.
Provisional planning (i.e. trial kitting) provides a powerful `what if' requirements analysis. Material scheduling generates works orders and purchase requirements for planned orders.
3. Compact Material Requirements Planning
The axis diplomat MRP module provides the ability to forecast the demand for materials required by manufacturing. This demand is automatically calculated based on the number and variety of customer sales orders and internal works orders for stock, based on sales projections.
3.1 The MRP Module
MRP works in conjunction with the Accounts, Bill of Materials, Sales Order Processing, Purchase Order Processing and Purchase Requirements modules. The Stock Ledger provides the information (via stock transactions) to forecast stock movement activity, whilst Bill of Materials provides the information about the nature and quantity of materials (subassemblies and components) required to manufacture the ordered goods.
Sales Orders and Internal Works Orders (maintained via the MRP module) can be flagged as Planned or Unplanned and the MRP functions are designed to only look at Planned Orders. By amending this status on individual orders, the Production Manager has the ability to adjust the manufacturing mix to meet available resources.
A function, "Trial Planned Order Explosion", is used to produce a picture of material requirements for the Planned items. This function will process all of the planned orders falling within specified criteria, checking manufacturing material requirements against the projected available stock at the order due date.
No amendment is made to the stock ledger at this stage, the report can be run as many times as required, varying the Planned order mix, to provide a powerful 'what-if' requirements analysis.
3.2 Material Scheduling
Once a satisfactory manufacturing plan / order mix has been obtained using Provisional Planning methods, the items flagged as planned can be scheduled.
Scheduling operates in three basic phases:
Firstly the sales order allocations for assembly items are checked to see if the projected free stock on the order due date is sufficient, if not an internal works order is generated for the item.
Secondly all internal works orders (including those generated by phase 1) will be checked to see if there will be any additional works orders required to satisfy the sub-assembly requirements.
Finally the internal works orders are processed in order to generate manufacturing allocation transactions for the sub-assembly and component requirements.
3.3 Purchasing Support
Having identified the material shortages associated with the planned and/or scheduled orders, the system can generate Purchase Requirements (on systems with the Purchase Requirements module) which can be used to create Purchase Orders. For further information, please consult the Purchase Requirements overview.
3.4 Enquiries and Reports
A Works Order Enquiry provides details of the works order plus a list of any associated Works Orders scheduled to complete it, the components required and the status and availability of the components required.
The MRP reports provide facilities for checking details of outstanding and potential works orders, showing projected stock levels, and assessing the effect of scheduling different configurations of orders for manufacture (Trial Kitting).
3.5 Works Order Dockets
A works order docket may be printed for all scheduled works orders for which a docket has NOT been previously printed.
This function can also be used to re-print a specific 'Works Order Docket' if desired. Optionally, a list of components required to make the assembly, and their availability, can be included on the document.
3.6 Work in Progress Valuation
This function provides the facility to value the materials issued to jobs which are currently scheduled but not yet completed
3.7 Stock Movements
The standard set of Stock Movement Booking facilities is augmented with the following additional functions:
Issue Components for Job
Close Unissued Components for Job
Issue Manufacturing Allocations
Close Manufacturing Allocations
Goods Received from Works
When receiving goods from the factory there is a further option to backflush any unissued components for the job.
4. Customer Price Feeds
Create price files that are automatically sent to your customers every day.

Specify different file layouts and different product ranges for different customers and choose from a range of additional fields to include.
Do you have customers that would like to automatically receive a data file every day with details of your products?
This module can be used to:
send latest pricing information
send current stock availability
send complete product information so that your customers can populate their own systems and websites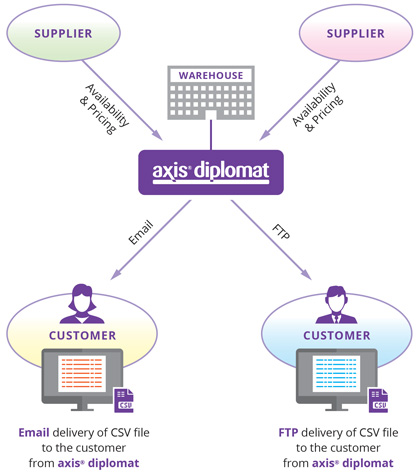 4.1 Functionality
Files are created as CSV (Comma Separated Variable) format text files and so are suitable for loading directly within a spreadsheet application or importing into a range of software systems.
You can define multiple file layouts and specify which customers receive which layout.
For example, some customers might simply receive a file containing stock references and current price whilst others might receive a more extensive file including stock availability, descriptions and even links to images held on an axis vMerchant website.
Some customers might also only receive data on a small subset of your product range, whilst others receive a larger file, covering all of your products.
For each customer, you can also specify the delivery method for sending the file:
by email
by uploading to an FTP server
by uploading to an SFTP server
In all cases, the latest copy of each customer's price feed file can always be found on the Attachments tab in Customer Enquiry, allowing them to be sent manually if required.
Files can be created and sent manually by running a specific "Customer Price Feed Delivery" function or, more commonly, by enabling a scheduled task. This allows you to configure the system to automatically send the files to customers at a set time on specified days of the week.
4.2 Stock Availability
Stock availability can be calculated in a number of ways, and may differ between customers.
You may choose whether to include your supplier's stock (provided that you are receiving regular stock feeds from your own suppliers).
You may also choose which stock locations to include - for example:
you may wish to exclude stock held in a quarantine location
a customer in Bristol who has stock delivered from your Bristol depot should only be told about stock at that one location
Please note: receiving regular supplier stock updates requires the Supplier Price Feed Foundation module and at least one additional Price Feed module - see https://www.axisfirst.co.uk/software/axisdiplomat/supplierEDI/ for more information.
5. Customer Relationship Management
The axis diplomat Accounts Module includes a range of facilities provided as standard to allow you to control, record and analyse contacts with your customers, suppliers and prospects
5.1 CRM Facilities
axis diplomat contains a host of CRM facilities included as standard that are more than adequate for the vast majority of businesses. Companies that run intensive telesales or with a range of pro-active marketing activities, however, may also be interested in the Campaign Management module, which extends the CRM facilities to handle singular marketing activities (such as sending out a mailer and following up with email and telesales) or recurring activities, such as calling a group of customers on a regular (e.g. weekly or monthly) basis.
5.2 Standard Features
Amongst the CRM facilities included as standard with every axis diplomat system:
record details of prospects as well as customers on your Sales Ledger; prospects cannot have orders, invoices, cash, etc. booked to their account but when they become a customer, their status can be changed at the click of a mouse, preserving all of the contact and quotation history from when they were a prospect
define your own custom categorisation for customers and prospects to provide accurate profiling; for example you may decide that you want to categorise by geographic area (perhaps simply – south east, south west, midlands, etc), business type (manufacturer, wholesaler, retailer,
etc) and so on – in up to ten different categories

record details of an unlimited number of individuals (or contacts) within each customer, prospect or supplier; including DDI telephone or fax numbers, email addresses, mobile numbers, etc.
categorise contacts using your own custom categorisation – perhaps, for example, you might choose to categorise them as director, manager, purchasing clerk, warehouse, accounts, etc. – each contact can belong to up to four different categories so one contact can, for example, be both a director and an accounts contact
attach external documents to each customer, prospect or supplier – for example, scanned copies of trade agreements, maps, Microsoft Excel™ spreadsheets, etc.
5.3 Call History
The heart of the contact management facilities provided, as standard within axis diplomat , is the Call History recording. This allows you to keep a history of any contact or communication between you and your customers or prospects. Each call can be associated with a specific individual within the organisation that you are dealing with and can be allocated to the responsibility of one of your operators. Calls can be categorised using your own custom categorisation. By using one of the levels of categorisation to indicate the department, the Call History facility can be used simultaneously for sales management, accounts/credit control and even customer services – since each call is allocated a unique number by the system, it can be used for managing a returns system, including the issuing of returns (RMA) numbers.
A range of enquiries and analysis reports allow you to keep track of, and analyse calls so that you can see, for example, the number of outstanding calls for a particular member of staff, department or customer.
External documents, such as emails, faxes, Microsoft Word™ documents, etc. can also be attached to Calls on the system, allowing a complete history of the item to be seen by anyone at any time. The system also allows you to create Word documents attached to the call from a selection of Word templates that you can add to the system. Information (such as names and addresses) can be automatically merged into the template when axis diplomat creates the Word document. This means that all of your standard letters can be stored within the axis diplomat system and produced at will, with contact information already inserted for you at the point of creation.
5.4 Using the CRM Information
As the information is accumulated within the CRM areas of the axis diplomat system, various facilities are available to utilise that data:
You can, for example, create a mail merge within Microsoft Word™. Depending on how you set up the custom and contact categorisation, you could send a mailing to all of the Accounts contacts within all of the Wholesale companies in the Midlands.
axis diplomat also includes 'emailshot' capability as standard so in addition to (or instead of) sending a paper mailing, you can send an email to all of those contacts.
6. Custom Build Assemblies
Custom Build Assemblies builds on the Bill of Materials module to provide additional functionality to manage sales of products involving configuration options.
Examples of typical applications include:
Furniture - a Custom Build would allow for selection from a range of arms, castors and fabric options for a chair or, for a desk, drawer and colour.
Technology - a custom build can cover all of the options for specialist equipment such as large printers and copiers or for simpler option lists such as defining the appropriate docking stations, cases and warranties for specific notebooks.
By ensuring that all of the options are defined within the Custom Build Assembly, the sales process not only becomes more efficient (because the sales person can take the client through the options one by one) but safeguards are introduced to ensure that up-sell options are offered and not overlooked.
Each set of options within a Custom Build Assembly may be optional or mandatory - you can also specify the maximum and minimum quantities that are to be added to the order.
Within each set of options, individual options may be flagged as exclusive - these may not be added along with other options from the same set. Costs may be associated with individual options, or they may be free of charge.
For example, a Custom Build Assembly for a chair might have an option to choose the colour. This would be mandatory (you have to choose a colour) - red, blue and black might be zero cost options whilst black leather would carry an additional cost.
6.1 Example - RH 300 Chair
This chair can have a number of options, including various castors, arms and headrests. When adding a chair to a Sales Order or Quotation, an additional dialog is displayed:

Example - RH 300 Chair (continued)
The left-hand panel shows the options:

whilst the right-hand panel shows the options that have been, or need to, chosen:

A number of options (such as head rest and arms) are optional, as indicated by a minimum quantity of 0; the maximimum quantity is 1 since you cannot, for example, choose more than one headrest option.
Other options (base, castor and fabric) are mandatory, indicated by a minimum quantity of 1. The maximum quantity is again 1 so you cannot choose more than one fabric, base or castor. These are initially shown in red to indicate the options are still to be selected before the chair can be added to the sales order.
Selecting one of the sets of options from the right-hand panel produces the list of possible options from the Custom Build:

Here, the operator has selected the set of headrest options. Note that each of the the individual options are exclusive, ensuring that only one headrest can be selected.
7. eMail Archive Interface
The e-Mail Archive Interface module extends axis diplomat's already powerful customer relationship management facilities by providing easy access to your organisation's email archives directly from within customer and supplier enquiry functions.
Just a few clicks gives access to a list of emails, both to and from that customer or supplier from the day your organisation deployed its email archive solution up until today, whether "deleted" or not! By configuring security settings within the email archive you can also allow users to see emails sent or received by colleagues.
7.1 Puts You in Control
The e-Mail Archive Interface puts you back in control of email allowing you to view all email correspondence for a specific customer or supplier within seconds (regardless of whether that correspondence is just hours, or years old). Give your sales or customer services teams the power to deal with queries efficiently in a colleagues' absence by being able to see email correspondence regardless of who sent what to whom!
The axis diplomat eMail Archive Interface can help provide the type of comprehensive access to customer correspondence that, in the past, a traditional paper-based file would have given (but without the paper).
7.2 Key Features
Lists all email sent to or received from a customer or supplier simply by clicking the "Email" tab in the axis diplomat customer (or supplier) enquiry.
User's can "drill down" to open a selected email, see its conversational thread and view attachments.
Allows information to be shared easily. You control what emails individual users (or groups of users) can see by configuring security on the email archive

Includes access to emails which have been "deleted" from a user's inbox or which may have been incorrectly identified as Junk
Saves user's time as an individual no longer has to worry about keeping and organising copies of emails for themselves.
7.3 How it works
The axis diplomat eMail Archive interface interrogates a database containing an archive copy of every email sent or received through your organisation's email server(s).
The archive database is provided by a product known as GFI Archiver (sold separately).
Because the archive is separate to your normal email database it isn't affected by users deleting copies of emails or user accounts being deleted from the system.
The database is highly optimized for the purpose. Emails are compressed to reduce storage requirements whilst database searching is quick and efficient.
7.4 About GFi
GFI is a leading software developer that provides award-winning security and messaging products with a strong focus on small-to-medium sized businesses. Founded in 1992, GFI has offices in Malta, London, Raleigh, Hong Kong, Adelaide, Hamburg and Cyprus which support more than 200,000 installations worldwide.

For further information view the GFI web site at http://www.gfi.com/
8. European Import One Stop Shop (IOSS)
Handle VAT on Distance Selling into the European Union using the Import One Stop Shop.
8.1 Introduction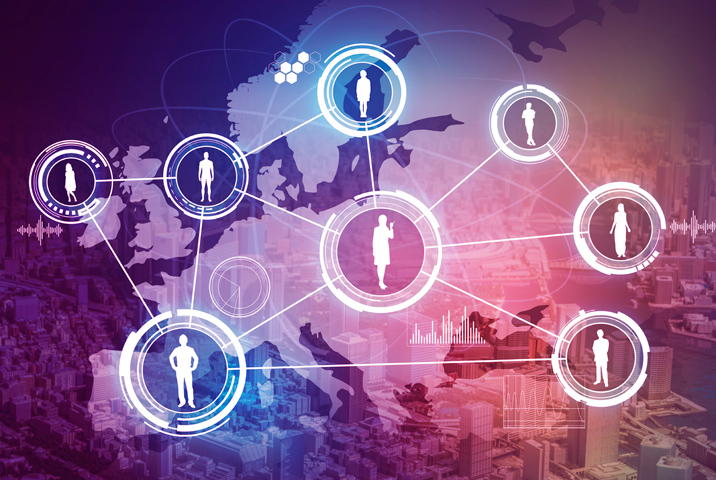 From 1st July 2021 the rules for distance selling (business-to-consumer, B2C) into the European Union change. These rules apply to all suppliers outside of the EU and are not directly related to Brexit.
From that date, the VAT exemption for sales below €22 into Europe is removed and all goods imported into the EU are subject to VAT.
The Import One Stop Shop was created to simplify VAT and to ensure that customers do not face unexpected fees when their goods are delivered.
It is designed only for relatively small transactions (up to €150) and allows a seller based outside of the EU to register for VAT in a single European country yet charge VAT at the rate for the particular country to which goods are being delivered.
Registering for IOSS is entirely optional - if sellers are not registered then any customers within the EU will pay the VAT and possibly other fees charged by the carrier, when the goods are imported.
Additionally, for those businesses located within the EU, the distance selling thresholds within the EU change 1st July 2021. The existing thresholds for distance sales of goods to buyers in other EU Member States (EUR 35,000 or 100,000, depending on the Member State) will be abolished and replaced by a new EU-wide threshold of EUR 10,000.
Below this threshold, you can continue to apply the domestic rules for VAT on your cross-border sales. If your sales are above this threshold, you are liable for VAT in the Member State where your buyers are located. But you will be able to easily register in the One Stop Shop (OSS) – where you can declare and pay the VAT due in other Member States.
The EU VAT Import One Stop Shop module adds support for IOSS within axis diplomat 2020 and connected axis vMerchant websites.
8.2 How it Works
With the Import One Stop Shop feature, axis diplomat holds the VAT rates for each VAT region against each VAT group (via the Multiple VAT Registrations module). A system parameter indicates which EU country is the master IOSS VAT registration.
Since the threshold for IOSS is defined in Euros but sales may be made into Europe in any currency, each Sales Ledger holds an exchange rate to use for IOSS calculations (even on systems without the Foreign Currency module).
Once IOSS is enabled and configured, axis diplomat will apply the VAT rate based on the destination delivery address for all B2C sales with a goods value at or below the IOSS threshold.
axis diplomat will prevent consolidated delivery creation or order picking for order lines over the value specified in the above parameter for any order lines where IOSS VAT has been applied. It will also prevent consolidated delivery creation or consolidated order picking for order lines where the application of IOSS rules differ, for example one order has not had VAT applied on the lines but another has. This may occur because the order value exceeds the IOSS threshold, the order pre-dates 1st July 2021 or the order has come via a marketplace that has collected the VAT.
8.3 Order Import
Marketplaces that have collected VAT from the customer at point of sale will pass through the IOSS registration details used for the transaction. This registration will be declared on customs invoices and passed through to Delivery Service Providers (DSPs).
The order will be filed and the subsequent invoice accounted for as a zero rated export under the UK VAT registration.
Orders imported from axis vMerchant and third party websites (via the axis diplomat XML eBusiness Interface module) may have VAT applied at the rate applicable for the delivery address if they fall below the IOSS threshold.

8.4 Pre-Requisites
The Import One Stop Shop module also requires the Multiple VAT Registrations module.
The Multi-Currency module is also required if you plan on selling in multiple currencies but is not essential for single-currency use of the Import One Stop Shop module.
8.5 Links
https://ec.europa.eu/taxation_customs/business/vat/vat-e-commerce_en
9. Goods on Account
The Goods on Account module allows the separation of the despatch of goods from the generation of invoices, allowing consolidated invoices to be generated, covering deliveries within any period of time for given customers.
Goods on Account is an optional module available for axis diplomat systems. It allows the creation of 'On Account' invoices, to which items can be booked over a period of time. This effectively introduces an additional stage, between despatching goods and invoicing.
9.1 Why Goods on Account?
Goods on Account will be of interest in a number of situations, including:

when a large number of small shipments take place, on a regular basis, and one invoice per shipment would create an unnecessary number of invoices
where specific customers demand a single consolidated invoice covering all deliveries within a given period – typically a week or a month
there is a requirement to delay invoicing, perhaps for review purposes, but the details of the goods shipped must be updated immediately to ensure stock figures are always up-to-date

the ability to produce a consolidated delivery note where several small orders are being shipped to one customer, together, to reduce carriage or delivery charges

Bookings are created by releasing Sales Orders to Goods on Account instead of to invoice. The ability to release sales orders direct to invoice remains, allowing some customers to be provided with one invoice per delivery whilst others receive consolidated invoices.

Releasing the order effectively separates the order despatch and invoice generation functions, allowing invoicing to be delayed whilst still ensuring that stock figures are accurately maintained.
9.2 Creating and Updating Bookings
Sales Orders are released to Goods on Account, in a similar manner to the conventional method of releasing to invoice. This has the effect of immediately downdating stock on hand figures, and completing the appropriate sales order lines, maintaining not only an accurate stock picture but also ensuring that the back order situation accurately reflects the current situation.
Functions are provided to allow values and quantities on Goods on Account bookings to be amended. This means that the Goods on Account module can be of benefit in circumstances where there is a need to release orders promptly (to update order status or to keep stock figures up to date) but the exact invoice details are not known. This can happen, for example, with goods that have a high risk of loss or damage in transit. A function is also provided to allow the operator to return goods into stock previously booked out but returned before being invoiced.
9.3 Creating Invoices
Having accumulated a number of Goods on Account bookings, a simple function will create a batch of invoices, according to certain criteria.
Generally, invoices are created as a consolidation of all bookings over a certain period. The invoice will indicate the items booked on a given day by delivery reference.
When creating invoices, separate invoices can be created for each order, order source, department, product reference and/or our reference. Invoices can be created as frequently or infrequently as required. This gives full flexibility over the way in which Goods on Account is used: at one extreme, for example, it is possible to create one invoice at the end of each month for everything a given customer has had during that month.
Conversely, for example, a separate invoice can be created for every delivery and Goods on Account is simply used to delay the invoicing, perhaps to provide a review or to double-check that all goods have been received by the customer prior to invoicing.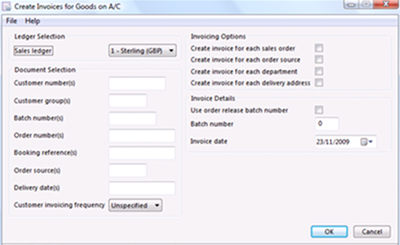 10. Hand Held Stock Control
Provide your warehouse with handheld data entry devices that allow real-time updating of your stock ledger coupled with the ease and accuracy of bar code operation.
10.1 Real-Time Operation
The device is connected, via a wireless network, to your server and, as stock adjustments are made (for example, during a stock take), those adjustments are updated automatically in axis diplomat.
The Hand Held Stock Control module provides simplified functions for key stock control functions, although any standard axis diplomat function, however, can be operated from the hand held units.
The key functions are designed specifically for use with these hand-held devices and are intended for use with bar codes but, as with other functions within axis diplomat , items can be selected by reference or by key word selection using the built-in keypad or touch screen.
Since the software is closely dependent upon the characteristics of the hand held data capture device, Axis First offers a bundle pack consisting of the axis diplomat Mobile Client Licence, together with the ruggedised data capture device itself, to provide everything (except the wireless network infrastructure) you need to be able to use the Hand Held Stock Control functions.
10.2 The Hand-held Device Features
These hand-held devices offer the following features:

Rugged Construction
Wireless Connection providing real-time access to your axis diplomat system
Easy Recharging via Docking Station
Built in Laser Class Bar Code scanner with left- or right-handed operation
15 key alphanumeric keypad or touch-screen keyboard

Options available:

Extended battery pack.
Vehicle mounting.

Hand Held Stock Control Unit with integral bar code scanner
10.3 Frequently Asked Questions
What specifically-designed functions are available for use on the hand-held units?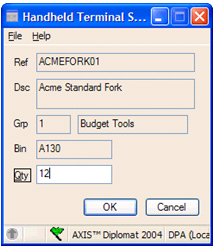 The list of axis diplomat functions that are designed specifically for these units includes:
Stock Take Adjustment
Positive Stock Adjustment
Negative Stock Adjustment
Stock Enquiry
These functions offer much greater simplicity than their fully-featured, full screen equivalents and are designed specifically with the needs of the warehouse in mind.
Additional axis diplomat modules also enable the following:
Sales Order picking
Works Order picking
Enhanced Stock take
10.4 What Infrastructure do I need to be able to use these Devices?
Connection to your network is using standard wireless networking technology (802.11b or 802.11g). Your warehouse needs Wi-Fi base stations, known as access points, to which the devices connect. The number of access points that you require will depend on the size and layout of your warehouse.

The devices connect to your server using a protocol known as RDP (Remote Desktop Protocol), which means that your server must be capable of providing Terminal Services.

Hand Held Stock Control Device on its docking station/recharger
11. Hire Management
Add functionality to your axis diplomat system to manage both the hire of equipment and the accompanying sale of consumables.
11.1 The Hire Management Module
Comprehensive details of hire items are recorded and divided into two types – capital items and expendable items. A capital item is held individually, for example a compressor, whilst expendable items are held in quantity, such as scaffold poles. Details of daily charges, service history and costs, earned revenue and availability are held against each plant record.
Reports and analysis can be produced for both the hire desk and management on the availability of items for hire, which customers have which items, which items are due for service and which items are due for return by customers.
11.2 Recording
The important tasks of recording the hire and return of equipment are undertaken by the raising of advice and collection notes. As each item goes out or back, the system is automatically updated to provide an accurate availability position.
Throughout the hire period, details can be amended to take into account any changes to the original terms or any substitutions required for repair and maintenance; at any time new items can be added to the register or old items removed on disposal.
Consumable items are recorded in the Stock Ledger of an axis diplomat Accounts package. Sales can be invoiced directly by the axis diplomat Sales Ledger invoicing functions or they can be entered via the Hire Management System, either separately or in conjunction with equipment hire charges.
11.3 Invoicing
Invoices are created automatically from the advice and collection notes recorded in the system. Each current hire is scanned and the number of chargeable days calculated, either from the date of the advice note or from when an invoice was last produced.
There are both monthly and daily invoicing procedures: the monthly procedure automatically calculates charges for continuing hires; the daily procedure is used to produce immediate invoices for off-hired items and for any miscellaneous charges, such as collection charges.
All invoices are posted to the main Sales and Nominal Ledgers of the linked axis diplomat Accounts module.
11.4 Built in Calendar Function
A built-in calendar function takes into account weekends, holidays or any other dates when equipment is not to be charged. This is a very flexible facility, enabling immediate calculation of the total days to be invoiced.

11.5 Rating Structures
A number of hire types are supported, including:

Hourly Charged
Operated Plant
Fixed Period (month, quarter, half year, year)
Forward Dated

The key to successfully handling hire invoicing is in correctly specifying and calculating the hire charges for given periods of time. axis diplomat Hire Management makes this very easy by using a mechanism of Rating Structures. A number of different Rating Structures may be set up on the system, each of which can be applied to one or more items.

A Rating Structure defines how charges will be calculated for the hire of particular items over varying periods of time. Rating Structures can range from simple (for example a fixed daily rate) to very complex, (for example where special rates apply to weekends, long period hires etc).

Rating Structures only refer to percentages of a base rate and do not specify actual amounts - the actual base rate price is specified on each item. The same Rating Structure can, therefore, be applied to any number of items where the actual hire price differs but not the way in which hire charges are calculated.

Hire items have both short and full descriptions whilst system parameters allow you to specify, for each type of document, which description is to be used. The date each item was purchased and its price are recorded for memo purposes and the module has a built-in diary reminder for servicing periods and along with the next service date, will appear on reports and enquiries.

For those who require greater control and recording of service dates and results, the optional Test Scheduling and Recording module can be used. Revenue earned by an item is recorded on a "this period", "this year" and total basis. Costs are also recorded against each item and these figures are kept up to date by recording ongoing service costs.
11.6 Advice Notes and Collection Notes
The system uses one entry of data to place items on hire and another one to accept them back.
Invoices are automatically issued against advice and collection notes and they can contain both hire charges and consumable item sales. Alternatively invoices for consumable items can be issued directly from the Accounts Sales Ledger.
Additional facilities are provided to amend an advice note, to delete an advice note and substitute items on hire.
Once a hire contract is terminated, collection note details are entered in order to identify items that have been off-hired; partial collections are also permitted. There is also an opportunity to enter any consumables sold and miscellaneous charges. The system also allows for minimum charges to be applied.

12. Integrated Stock Ledger
Automatically update the Nominal Ledger whenever a stock movement occurs.
This optional module changes the way in which stock valuations are reflected in the Nominal Ledger.
In axis diplomat systems with this module, transactions are posted to the Nominal Ledger whenever a stock movement occurs in place of making periodic adjustments (typically at period end) based on a valuation of the stock on hand.
This means that the stock valuation within the draft accounts is updated in real-time whenever the Nominal Ledger is in the current period.
With the Integrated Stock Ledger module, you are able to:
eliminate the need for a Period End Stock Adjustment
obtain more detailed cost analysis within the Nominal Ledger, including breakdown by Department and Cost Centre
match the Cost of Sale in the Nominal Ledger to the Cost of Sale on each Sales Invoice
12.1 How it Works
Stock movement transactions are posted to the Nominal Ledger, in real time once the nominal period end for the previous period has been run, so that receipts increase and issues decrease the value of the Balance Sheet Stock Ledger Control Account (Stock on Hand), whilst the double-entry for each transaction is posted to the appropriate nominal account for the type of movement. For example:
The cost value of receipts of goods from purchase orders will increase the liability on the Goods Received not Invoiced account: the liability is reduced when the purchase invoice is booked to that account
The cost value (from the receipt being issued) on a sales issue transaction will increase the Cost of Sale account specified for that stock item
For users of the Compact MRP module, the Work-in-Progress account will be increased by the cost value of components issued to works and when the Works Order is completed the Finished Goods account will be increased by the cost value of the finished item received from works, while the cost value of the components used will be transferred from the Work-in-Progress account to the Finished Goods account, reducing the value of both the Work-in-Progress account and the Finished Goods account
Stock transfer transactions are not posted to the Nominal Ledger as they do not affect the stock valuation
Other non-specific stock movement transactions will be posted to designated stock adjustment accounts for investigation and write-off if appropriate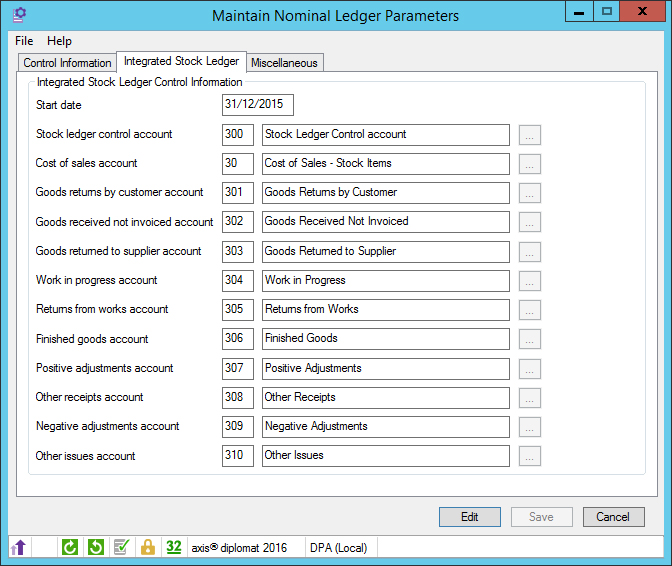 12.2 Who can make use of the Integrated Stock Ledger?
The Integrated Stock Ledger module is not suitable if you
allow negative stock
use provisional costs on goods received
have the Hire Management or Stock Depreciation modules
13. Intrastat
Larger UK businesses with a value of trade in goods with other EC countries above a specified threshold are required to supply supplementary information to Customs & Excise in respect of that trade on a monthly basis.
13.1 Currency Transactions
Statistics are required on 'Arrivals' and on 'Dispatches' if your annual value exceeds the current threshold.

If Intrastat reporting is required, a certain amount of additional information must be recorded within axis diplomat system when entering details of sales orders, sales invoices, sales credit notes, purchase invoices and purchase credit notes.

These additional Intrastat details are recorded against those transactions and automatically transferred to a separate Intrastat file by the posting routines.

A manual facility provides for the addition and amendment of any transactions involving the movement of goods without a corresponding VAT transaction. e.g. value of goods sent for process, goods returned for credit, movements where the Intrastat reference date is not the same as the VAT tax point etc.

The Intra EC Trade Statistics ("Intrastat") module records the following additional information, in respect of each goods movement required for Intrastat purposes:

Commodity Code
Net Mass (Kilos)
Supplementary Units
Delivery Terms
Mode of Transport
Country of Origin (arrivals only)
13.2 AXIS Diplomat Intrastat Reports
The reports available for submission to Customs and Excise are as follows:
Quarterly EC Sales List
Arrivals Declaration
Dispatches Declaration
Print Intrastat Audit List
13.3 HM Revenue & Customs
The information from the axis diplomat Intrastat module may be submitted electronically to HMRC.
It can also be printed and transferred manually to the appropriate forms or, if a suitable printer is available, printed directly onto the pre-printed forms available from HMRC.
HMRC no longer accepts plain paper submissions for Intrastat.
For further information please refer to the HMRC web site at http://www.hmrc.co.uk/
14. Landed and Supplemental Costs
Ensure that your stock valuation reflects the true cost, including supplemental elements such as freight, insurance and duty.
14.1 Overview
The axis diplomat Landed and Supplemental Costs module adds a wide range of functionality to handle these additional costs by providing:
The ability to flag product items as a supplemental cost, recording the cost type and the apportionment method to be used when apportioning the cost. Apportionment methods include 'By value', 'By weight', 'By volume' and 'By quantity'.
The ability to add supplemental costs to purchase orders and individual purchase order lines.
The ability to add supplemental costs in Purchase Delivery Advice Maintenance for a delivery and individual lines.
The ability to amend the cost of open stock receipt transactions to add supplemental costs retrospectively.
Reporting stock valuations at 'original' unit cost and 'Landed' cost.
Visibility in Purchase Order Maintenance, Purchase Delivery Maintenance and stock transaction enquiries of the original purchase cost and the 'Landed' cost with drill down into the detail of individual supplemental costs.
Linking of purchase orders and purchase invoices/credit notes to assist with identifying the sources of supplemental costs.
Extensions to Purchase Delivery Advice Maintenance to allow the recording of extended inbound delivery information to assist in reconciling customs documentation against the purchase delivery advice.
Analysis of supplemental costs is aided by creating a number of custom Supplemental Cost Types, which can be specific to your particular business needs.
Maintain Supplemental Cost Types

Using Stock Record Maintenance to create Supplement Cost item

Adding Supplemental Costs to a Purchase Order
Landed and Supplemental Costs is available as a no-cost option for axis diplomat 2020 i.e. it incurs no licence or support fees. You should allow for a minimum of one day implementation and training time, available on-site or remotely, at standard rates.
15. Multi-Location Stock
Allows stock to be held at a number of distinct locations - either separate physical locations (such as branches or warehouses) or logically separated stock (such as quarantine stock or stock awaiting repair).
15.1 The Multi Location Stock Module
Stock is issued from, received at, and transferred between locations, so that accurate stock-on-hand figures at each location are maintained.
The module can be used where you have stock in separate physical locations, such as separate warehouses or branches, or even spare stock held in engineers' cars. Alternatively, the module can be used to separate stock held for different purposes, for example, available for sale, on sale or return or requiring repair.
15.2 Locations
Up to 250 different locations may be defined. Each location has a code number, from 0 to 249, and is given an alpha-numeric description. A location must be set up using a Supervisor Function before it can be used for the first time, ensuring that you have control over the locations that are used. Location code 0 is used as the default location, and, by default, has the description of MAIN DEPOT, although this may be changed if required.
15.3 Stock Transactions
All stock transactions, including sales and purchase orders, are allocated to a location by the operator. Stock may only be issued from a location if there is enough stock-on-hand at that location. Similarly, stock may only be received or delivered against an order at the location that the order was allocated to. An additional function, "Stock Movement Between Locations", allows stock to be transferred from one location to another.
15.4 Stock Reports
Stock Valuation, Stock Under Minimum Report, Stock Over Maximum Report and Stock Transaction List may all be printed for a specified location.
Stock Enquiry and Stock Price Enquiry may also be made for a specified location.
In addition, on all enquiries and reports where individual stock transactions are listed, the location applicable to each transaction is shown.
15.5 Stock Location Details
Additional information about stock at each location is also maintained. The additional information held for each stock item is as follows:
Stock on hand
Stock on order from suppliers
Stock on order by customers
Overdue sales orders
Stock issues (this period, last period, this year, last year)
Re-order level (minimum stock)
Re-order quantity
Maximum stock quantity
Bin location
This means that different stocking levels can be set at each location, and that each location can use its own bin referencing system. A history of stock issues from each location is maintained, and an additional report, "Stock Issues Report by Location", is provided.
Maintenance of stock on hand and on order figures at each location means that system performance is improved, particularly for stock records with large numbers of transactions attached. These functions include stock enquiries, invoice entry and sales order release.
16. Multi-Currency
Allow both sales and purchases to be made in multiple currencies.
16.1 The Multi Currency module
A separate sales or purchase ledger is maintained for each currency. The standard sales and purchase ledgers are always in the base currency, matching the Nominal ledger (usually Sterling).
The Multi Currency module allows customers to be invoiced in a currency other than the base currency, and for the balances on their accounts to be maintained in that currency. These balances are transferred to the nominal ledger in the base currency and are adjusted from time to time to reflect the current exchange rate in accordance with Statement of Standard Accounting Practice, SSAP 20. Suppliers are handled in a similar manner.
Differences between the base currency equivalent of invoices at the time they are entered and the base currency equivalent of the matching payments when they are made or received are automatically posted to an Exchange Variance profit and loss account on the Nominal Ledger as part of the period end procedures. Each currency ledger can have its own Exchange Account if required.
For each ledger the currency description, currency symbol, and default exchange rate may be set up.
All values on the customer or supplier accounts are held in the currency of that ledger, but may be converted to the base currency for reports such as the `Debtors Schedule', at either the current exchange rate or at the exchange rate of the original transaction.
16.2 Order Processing and Invoicing
All transactions associated with a currency customer or supplier are in the currency associated with that customer or supplier. For currency customers, this includes quotations, sales orders, invoices, credit notes and cash received.
The same exchange rate applies to every item on an invoice or credit note. Invoices and credit notes are always printed in currency. Where an order is partially released on several occasions to generate a number of invoices from a single sales order, each invoice may have a different exchange rate.
16.3 Stock Ledger
Prices and costs held on stock records are always in the base currency, being converted to the required currency at quotation/order/invoice entry time.
However, Currency Price Lists allow stock item prices to be maintained at an appropriate currency value, which does not fluctuate with the exchange rate. Using this mechanism, an item, for example, can be priced at £14.99, $19.99 and €21, irrespective of the prevailing exchange rates. As product discounts may also be set for a particular currency, the parameter Use currency price list discount when zero (Currency Price List group on the Customer Stock Pricing tab in Maintain Stock Ledger Parameters) is used to control whether or not a discount of 0% on the currency price record should be enforced in place of any discount set on the master stock record.
Values on stock transactions are always in the base currency; goods received from non base currency suppliers are revalued in the base currency to provide Current and Actual costs using the exchange rate in force at the time that the actual cost is confirmed.
In addition, customer-specific and supplier-specific pricing options are supported in currency - Customer/Stock price list entries for currency customers are in that currency and, similarly, supplier price list entries for currency suppliers are also held in those supplier's currencies.
16.4 Nominal Ledger
All transactions to be posted to the nominal ledger are created in the base currency, the exchange rate entered for the transaction being used where appropriate. The control account for the currency ledger in the nominal ledger is therefore held in the base ledger: each time a currency ledger tranasction is posted, a transaction for the sterling equivalent of the total amount posted is created.
When the sales or purchase ledger is period-ended, the current balance on the currency ledger is converted to sterling at the current default exchange rate for the ledger. This value is compared with that of the control account for the ledger and a transaction raised against the exchange variance account for the difference if necessary. A similar calculation is carried out and reported whenever the draft accounts are printed, but no transaction is actually raised.
Within the Cash Book module, currency bank accounts and petty cash accounts may be created. A function is also provided to re-value currency Cash Book accounts - it will calculate the base currency account balance of each nominal currency bank and petty cash account in use based on the current exchange rate and, if required, generate a pair of journals between the account and the exchange variance account for the corresponding ledger.
17. Multiple VAT Registrations
17.1 Overview
Manage VAT for businesses registered in multiple EC countries.
With the increase in cross-border retail sales (sometimes referred to as Distance Sales), typically driven by successful eCommerce websites, many businesses now find that they must be registered for VAT in a number of European countries.
Businesses selling goods to consumers in individual EC countries where the value of those sales exceed the VAT registration thresholds for those countries must be registered for VAT in those countries.
This module provides the functionality to handle those multiple VAT registrations across multiple countries.
17.2 Record Details of Each VAT Registration
The system allows you to record the details of each of your VAT registrations, as well as the differing VAT Rates that apply to that registration.

This example illustrates the Multiple VAT Registrations for a company primarily registered for VAT in the UK with additional registrations in France and Italy.

It also shows the maintenance of the list of VAT rates for each country.

Generally, VAT rates for the default VAT registration will be applied to all sales unless the customer is a consumer and the Country Code of the customer's delivery address matches a different active VAT registration, in which case the VAT rates for that VAT registration will be used.

In the example shown here, distance sales to EC member states other than France or Italy will be subject to VAT using the UK VAT Registration but any sales being delivered to France or Italy will use those respective VAT registrations.
17.3 VAT Groups
This module also introduces the concept of VAT Groups. VAT Groups are used to control the VAT rates applied to individual stock items instead of taking the VAT rate from the Sales Group.

VAT Groups are required because a product may have different VAT status in different countries - for example, books are zero-rated in the UK but may be standard-rated in some other countries and reduced rate in others.

This illustration, for example, shows the creation of a VAT Group called "Gardening Books" - items in this VAT Group are then charged at 0% except in France (where they are charged at 20%) and Italy (where they are charged at 22%).

Individual stock items are then assigned to the appropriate VAT Group to ensure that the correct VAT rate is applied for sales under each registration: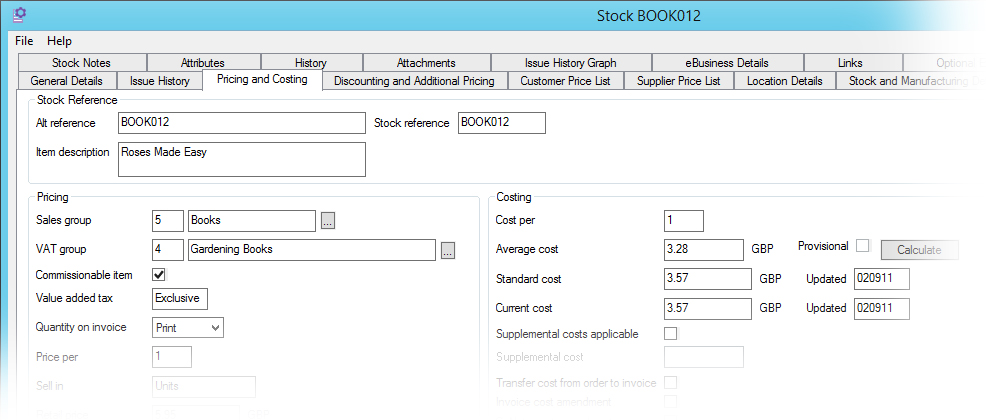 18. Payment Card Security
Help take more of your systems and processes out of scope for PCI DSS Compliance.
For most SMEs, taking your systems out of scope is a much easier option than complying with the full requirements of PCI DSS. In effect, this means avoiding any contact with your customer's card details, no matter how briefly.
Whilst this is straightforward for eCommerce websites, handling telesales has always presented a greater challenge. Now, axis diplomat offers a number of modules that can be used individually or in combination to reduce or avoid altogether the need for card details to pass through your network.
Please note that axis diplomat supports two modes of operation for card payments - immediate payment and deferred.
Deferred payments are taken at the point that the sales order is released (normally at the point goods are despatched) rather than when the order is placed. Deferred payments support multiple debits of part-payments for orders that are part released on multiple occasions without having stored the card details in the interim.
Each module described below supports both methods.
18.1 Opayo Tokens
Opayo offer a mechanism called "Tokens" which enables them to save your customer's card details for subsequent re-use. This is intended for use on website checkouts to offer the customer the choice of entering new card details or using a saved card. Saved cards are only identified by their last four digits and the expiry date so do not affect PCI DSS compliance.
With the axis diplomat OpayoTokens module, these tokens are imported into your axis diplomat system from your axis vMerchant website and are then also available for use in Sales Order maintenance functions.
This means that any customer who has previously shopped on your website but subsequently needs to make a payment over the phone does not need to give you their card details unless they wish to use a different card.
18.2 Opayo Online Payments
The Opayo Online Payments option allows you to send a payment request email to your customer from within axis diplomat's Sales Order maintenance functions.The email contains a link to a payment page hosted on your axis vMerchant website, where they enter the payment details as if they were buying online. As soon as that payment is made, the details are imported back into axis diplomat and the order can be processed in the usual way.
When used in conjunction with the Opayo Tokens module described above, this process would only need to be followed once for that customer since subsequent orders could be paid using the stored token.
If you wish to use this facility but do not have an axis vMerchant-based website, we are able to host a stand-alone payment gateway for you.
18.3 Opayo Terminal Payments
Where it is necessary to take card payments over the phone, this module allows you to enter the payment details into the Opayo payment portal (using their website) - payment details are then automatically imported back into your axis diplomat system and matched to the sales order awaiting payment.
Using the website from a workstation attached to your network will still bring all or part of your network into scope so one solution is to use a tablet that accesses the Internet via a mobile 3G/4G SIM and not your Wi-Fi network.
18.4 Aeriandi / Opayo Interface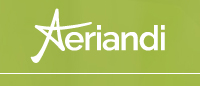 A completely separate approach to taking card payments over the phone is offered by Aeriandi and is ideally suited to those who use call recording or VoIP. Their solution works by capturing card details entered by the customer using the telephone keypad ("DTMF") or spoken and captured by voice recognition. The details are masked from your telesales operator although they stay on the line throughout the process. Once the card details are captured, the details are passed to Opayo for processing in the normal way whilst the transaction details are also passed to axis diplomat.
1.

The customer calls you and wishes to make a payment using a Credit or Debit Card. You ask them to type in their payment card details using their telephone keypad. At all times, you stay on the line to continue the conversation.

2.

As the customer presses the keys, you hear a comfort tone whilst the card information itself is captured within the Aeriandi Cloud Platform before being passed on to Opayo.

3.

You are notified if the payment has been approved or rejected. At no time do the details enter your system which means, without any payment card data to protect, your obligations to comply with PCI DSS are dramatically reduced.
19. Payment Service Provider (PSP) Interfaces
Payment Service Providers (PSPs) offer online services for accepting payments using various payment methods including credit card, debit cards and bank transfer and allow businesses to accept online payments without the need to securely process payments themselves.
axis diplomat works with a number of PSPs including Opayo (formerly SagePay) and PayPal.
19.1 Payments via your website
Opayo allows credit and debit card payments to be processed via your axis vMerchant website.
The shopper appears to be entering the details into your own website but in reality they are using a page hosted by the PSP themselves. This means that the card payments never go through your own website, removing most, if not all, of the requirements for your website to conform to the demands of the PCI DSS data security standards.
The PSP simply returns their own unique ID which is then used by the website and axis diplomat for subsequent processing - no information about the card used is known so security is maintained.
Alongside processing card payments, PayPal is frequently offered as an alternative payment method and users with their own PayPal account may make payments directly from their bank account or linked credit card.
19.2 Payments for Mail Order / Telephone Order Sales
Opayo may also be used in a telesales environment (known in the banking world as MOTO - Mail Order Telephone Order). axis diplomat allows you to enter the card details directly into the sales order maintenance functions - they are then transmitted to the PSP and again only their unique IDs are stored, not the card details.
Please be aware, however, that simply typing customer's card details into a workstation on your network (whether via axis diplomat or the PSPs own website portal) may increase your obligations under the PCI DSS security directives. If in doubt, please consult a Qualified Security Assessor (QSA).
For further information on options for minimising your requirements for PCI DSS compliance in a MOTO environment, please refer to the Payment Card Security overview.
19.3 Payment with Order or Payment on Shipment
PayPal always takes the payment at the point the order is placed; Opayo, however, offer the option of payment with order or of deferring payment until a later date (at the point the goods are shipped).
The choice of whether to take payments up front or at the point of despatch is yours - indeed, you can switch the mode of operation whenever you wish. Many prefer to take the payment up front but if there are regularly situations where it is more than a day or two before goods are shipped then best practice is to delay taking payments until the shipment is ready.
In the case of deferred payments, axis diplomat is aware of the PSP used to authorise the payment and will automatically contact the PSP (Opayo) to collect the payment as part of the order release process. This automatically handles part-shipment as well so you are always only collecting the payment for the goods that are actually being shipped.
19.4 Comparison of PSP Functionality
| Function | Opayo | PayPal |
| --- | --- | --- |
| Allow Payments via Sales Order Maintenance1 | Y | N |
| Allow Authorisation via Sales Order Maintenance1 | Y | N |
| Allow Payments via axis vMerchant Checkout | Y | Y |
| Allow Authorisation via axis vMerchant Checkout | Y | Y |
| Allow Payment of Outstanding Invoices via axis vMerchant My Account | Y | N |
| Refunds via Sales Order Maintenance | Y | Y |
| Automated Account Reconcilliation | Y | Y |
| Allow Payments via eBay | N | Y |
| Allow Payments via Amazon | N | N |
| Allow Payments via Channel Advisor | N | Y |
| Allow card details to be saved securely for future use | O | N |
| Allow email link to website payment page | O | N |
| Integrate with payments made via PSP's online portal | O | N |
Key
Y - functionality available with the standard axis diplomat module
N - functionality not available
O - functionality available but requires an optional module in addition to the standard PSP module
Notes
1 - Taking card payments via your axis diplomat system may have an effect on the level of PCI DSS self-assessment that you are required to complete; if in doubt, please discuss with your QSA
20. Point of Sale
Designed for trade counters and retail sales outlets that require much greater functionality than offered by a simple till.
20.1 The Point of Sale Module
The module is suitable for a wide range of applications, from companies with just a single small trade counter, which is ancillary to the main business, to larger installations, where the sales counter is the main point of customer contact.

In conjunction with Multi-Location Stock and suitable inter-site communications, the Point of Sale module is also suitable for multiple depots, providing immediate access to stock levels, not just at the local depot but for other depots too.

There are two aspects to the Point of Sale module; firstly, enhancements to the software specifically for the point of sale environment and, secondly, there is built-in support for a range of specialised hardware.

The Point of Sale functions provide a very flexible approach to handling counter sales. It is possible, for example, to specify the payment method(s) and, if this includes cash, the change is calculated and displayed. A cash receipt transaction is generated and allocated against the invoice, automatically, as part of the invoice filing routine.

There is no need to manually allocate cash to such invoices, which results in time saving for the back office as well as improving the efficiency of the counter operations.

The Point of Sale module not only handles cash sales better but, by providing quick retrieval of customer and product details, possibly using a bar code scanner, improves the efficiency of credit account sales over the counter.


If your sales counter is subsidiary to your main business you can just use a standard workstation with a standard invoice printer and you will still be able to handle cash transactions more smoothly and efficiently.

You may prefer, though, to add a cash drawer, or perhaps a bar code scanner, whilst a till receipt printer will create a better impression with customers who dislike receiving large format invoices. The format is still acceptable to Customs and Excise as a tax receipt.

The axis diplomat Point of Sale module can also integrate with an online Postcode Database. This makes creating customer accounts for your cash customers for marketing purposes incredibly simple. At the Point of Sale, you simply ask the customer for their postcode and house name or number. If they have purchased from you before, their account is retrieved but, if they have not, a new account is automatically created, there and then. NB Online Postcode Database access is not supplied as standard with the Point of Sale module.

The Point of Sale module supports hardware in various configurations. It is possible, for example, to use cash drawers without using a receipt printer or a bar code scanner. It is not necessary to use all (or, indeed, any) of the specialised hardware to reap benefits from the Point of Sale module.

20.2 Hardware Support
Cash Drawers
Single or multiple cash drawers are supported. This gives the choice of having one cash drawer shared between several operators or providing each operator with their own.
Bar Code Readers
The Point of Sale module records a bar code against stock items. Not all stock items need to be bar coded; those which are not can still be retrieved within Point of Sale Invoice Entry using the normal methods such as Reference or Key Word Search.

Since the Point of Sale workstation is still a fully functional client, it can be used for other functions, such as Stock enquiries, where the bar code scanner can still be used to retrieve stock details.

The ability to mix bar coded stock items with traditional keyed entry within functions means that the system is ideal for use where there is a mixture of small packaged items, which have bar codes on the packaging, and bulk materials, such as timber or piping, which may not have bar codes.

Receipt Printers
Small till receipts can make more sense, particularly in a retail environment, than larger 80 column or A4 invoices. An invoice entered via the Point of Sale functions is the same as any other invoice - the till receipt is simply a different way of printing the information on paper.

It is possible to have both a receipt printer and a conventional invoice printer on a counter. In this way, trade invoices can be printed in larger format whilst cash sales can be printed as till receipts.
Customer Information Displays
In most sales counters, computer displays are normally angled away from the customers view. This is often done deliberately to avoid customers seeing sensitive information, such as costs. The Customer Information Display is a small LED display unit, similar to those fitted to tills.

It is designed to be mounted on the counter and turned to face the customer. It is used to show stock references, quantities and prices during invoice entry. For cash sales, it also shows the amount tendered and the change.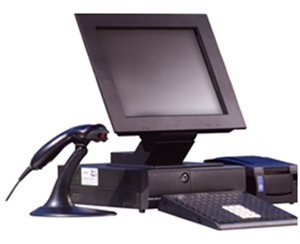 21. Pricing & Discounting
axis diplomat offers a wide variety of different discounting and pricing options, which between them cover just about every requirement. Many are standard, whilst others are additional modules, which may be used alone or in combination.
21.1 Quantity Break Discounting
The Quantity Break Discounting option allows users to assign a table of quantity breaks and discounts to any stock item, in order that a discount may be given dependent on the quantity sold.
Products may be grouped into discount groups. Each discount group can contain up to five quantity break discount tables (Categories A to E). Each table can contain up to six break quantities and their associated discount rates. The discounts can range from 00.00% to 99.99% and may be negative (i.e. surcharges).
21.2 Quantity Break Pricing
The Quantity Break Pricing option allows you to assign a table of prices to any product, depending on quantity supplied on a single sales document line. A table of quantities is created and a specific Trade Price allotted to up to 5 Quantity Ranges. When an invoice or sales order is entered for a trade customer, the price is extracted from the table in relation to the quantity entered. The price is displayed and may be subsequently amended.
Customer Discounts may still be applied where appropriate on top of the special prices.
21.3 Price and Discount Matrices
For the sake of brevity the Customer /Product Price and Discount Matrices are often described as simply the "Price Matrix" and "Discount Matrix" respectively.
A matrix offers a very powerful pricing or discounting facility and has been designed to be open ended in order that either a small number of stock items may be indexed to a large number of customers or a large number of stock items to a small number of customer groups.
The Matrix may be specified as either a Price or Discount Matrix, or alternatively, both can be set on the same system, giving a Price and a Discount Matrix.
In the case of a Price Matrix, the selection of a product included within the matrix will cross-reference the customer account, and an appropriate unit price will be selected and displayed. This price may be subsequently amended. Any applicable customer and product discounts will be applied.
Similarly with the Discount Matrix, the applicable unit price will be retrieved, but the Discount will be selected from the Matrix.
21.4 Order Value Break Discounts
This option allows a series of Order Value Break Discount tables to be maintained.
Up to one thousand different customer groups can be set, each with up to 10 order value break discount levels. This provides scope for giving individual customers individual order value break discounts if required.
There are 10 Order Value Breaks and 10 Discounts available for each group code.
On entering an order for a specific customer, the Group Code and the Discount applicable to the Total Value of the Order will be displayed. Both the Group Code and Discount Amount given may be overridden by the operator if required.
21.5 Standard Facilities
The options described above are all available to add to an axis diplomat system. The system does, however, also include many facilities as standard which betweem them can handle most pricing and discounting scenarios.
Trade and Retail P​ricing
Each item on the Stock Ledger is defined with two standard prices - a trade price and a retail price, along with a default indicator which specifies which of the two should be used unless otherwise specified. Account customers can be set up to always use the Trade Price, always use the Retail Price or use the default as specified on the particular stock or product item.
Product and Customer Disco​unts
Standard discounts to be used for trade accounts can be specified on the Stock Ledger (if your discounts vary according to the type of product) or on the Sales Ledger (if your discounts vary according to the type of customer). If for example, you have two types of trade account customer - "Reseller" and "Distributor", who receive 25% and 40% discount respectively, then you would simply specify those discounts against the appropriate customer accounts on the Sales Ledger.
Customer Stock Pri​cing
For applications where the pricing is completely individualised to each customer, the Customer Stock Pricing facility is the simplest to set up.
For various combinations of individual customers and individual stock items, a specific price may be entered into the price list.
When entering an order or invoice for a customer, if a Customer Stock Price List entry exists for a particular item ordered by that customer, that price is used. If no entry exists, then the standard price and/or discount from the stock ledger/sales ledger is used.
This facility also allows you to record your customers reference for a particular item, which is then shown on sales documents. This caters for the situation where your customer refers to an item with a different code to the one that you use. When entering a sales order for a particular customer, you may retrieve items from the stock ledger using either their codes or your own. This simplifies order entry when purchase orders are received from your customer quoting their own part numbers.
22. Purchase Delivery Advice
Record your supplier's Advance Shipment Notifications within axis diplomat and make the information available to staff to aid planning, provide more accurate information to customers and make the receipt of large shipments more efficient, especially when dealing with deliveries which may be a consolidation of a number of your purchase orders.
22.1 Key Features
The Purchase Delivery Advice module was developed with those with overseas suppliers in mind (in particular for shipments where you know many weeks in advance when deliveries are arriving and items from a number of orders will be collected together to fill a shipping container). It can also be equally useful to anyone operating with a relatively long lead-time from their suppliers.
When you receive a Delivery Advice from your supplier, you enter the details of the advice into the system, including the Supplier's delivery reference, the anticipated arrival date (and whether or not that has been confirmed) as well as which items from which purchase orders are on that delivery.
When the delivery is received, you can then use an alternate Goods Received process to receive the goods against that Delivery Advice rather than against the individual purchase orders. In the case of a large shipping container, for example, containing shipments, or part shipments, from many different purchase orders, this significantly simplifies the goods receipt process. For users of the Hand-Held Stock Control module, this process is fully supported by the hand-held devices.
22.2 Benefits
With the Purchase Delivery Advice module, warehouse management, purchasing and sales staff can see a more accurate state of your current purchase orders. This allows better planning for receiving expected deliveries and also being able to provide more accurate guidance to customers as to when stock is expected to become available.

With those dealing with large shipments, in particular those arriving by container, unpacking and checking a delivery can be a time-consuming operation, especially when the delivery consists of parts of many purchase orders. If the information as to what is expected in the delivery is already within the system, it is much easier to cross-check the delivery with that than against a list of all your orders for that supplier.
22.3 Software Operation

Enter / Amend Delivery Advice - this function allows you to record the expected receipt date, for items possibly collected together from a number of different purchase orders, under a single supplier's delivery reference.

These items then appear as Advised (or Some Advised in the case where only some of the outstanding items on a purchase order have been advised) on the Purchase Order Monitor.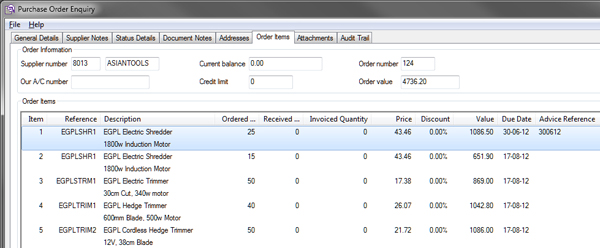 Where a partial delivery of a single purchase order line is being made, the system automatically splits the line so that operators can see how many have and have not be advised of delivery.
23. Opayo ePOS Payment Processing
Interface with Chip and Pin Payment Terminals for customer-present transactions, including retail and trade counters.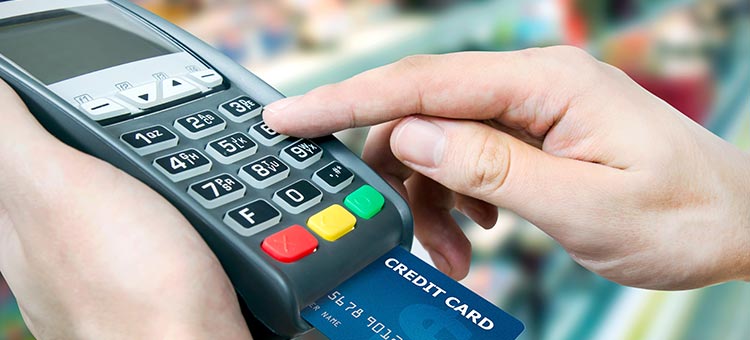 With the Opayo ePOS Payment Processing module, your axis diplomat system can interface directly with Chip and Pin devices. The correct transaction amount is passed directly to the device so there is no re-keying of amounts, ensuring error-free operation. A unique Transaction ID is returned, simplifying statement reconciliation.
Opayo are PCI DSS Level 1 compliant. Their PIN pads are PCI PTS 3.0 certified and use advanced encryption to ensure cardholder data is always protected.
Opayo Payment Terminal solutions are used by a number of well-known High Street names:

23.1 How It Works
axis diplomat passes details of required payments to the payment terminal via a web service. These payments may be originated from the following axis diplomat functions:
POS Invoice Entry
Sales Order Processing
Customer Enquiry (Statement tab)
Once the payment has been processed in the conventional manner on the payment terminal, transaction information is passed back to axis diplomat (again via the web service). axis diplomat will generate customer receipt transactions and, where an invoice is in context, allocate the payment
No card information passes through, or is stored by, axis diplomat at any stage in this process thus avoiding axis diplomat being within scope for PCI DSS compliance.
23.2 Benefits
By communicating directly with the Payment Terminal, axis diplomat is able to pass the correct payment information to the device. This not only helps avoid human error when keying the amount directly into the terminal but also results in a more efficient checkout process and fewer delays for the customer.
Transaction ID information is automatically imported back into axis diplomat from the Payment Terminal.
This massively simplifies the statement reconciliation process and customers have reported an appreciable real-world saving, reducing the time taken for reconciliation to one quarter of the time previously spent reconciling point-of-sale card payment transactions.
By holding the Transaction ID within axis diplomat, the refund process becomes much simple and the process of reconciling refunds again becomes much easier.
Payment Terminals may be connected via the 3G/4G mobile network. This means that it is possible that your local network may be taken out of scope for the purposes of PCI DSS compliance.

24. Service Contract Management
Control the billing and tracking of contracts in a simple and effective way.
24.1 Service Contract Maintenance Module
Details of service contracts are entered onto the system, including details of payment frequency and contract duration. The system then automatically governs the production of the correct number of invoices at the correct intervals. In this way, the system can cope with annual, monthly or weekly contracts as well as other less common payment frequencies.

Each contract can be set up to show as much, or as little, details as is required. For a contract involving maintenance of on-site equipment, for example, it may be desirable to show each individual item covered by the contract.

The module allows Requests for Service Contracts to be entered, to act as a quotation for a service contract. These may then be converted at a later stage once the contract has been accepted.

Service Contract Enquiries show the current status of a contract - for example, the number of invoices raised and outstanding and whether they have been paid. In this way, it is possible for a despatch desk or supervisor to determine the state of a contract before any action is taken.
24.2 Integration
The module can also be used in conjunction with the Sales Order Processing and the Workshop Job Management modules.

The Sales Ledger Customer Account Enquiry provides a quick and easy way of checking the contract status of a given customer. The basic details for the selected customers contract(s) are listed, from which it is possible to drill down to more detailed enquiries. For each contract, the Service Contract Enquiry will show the payment frequency (for example annual or monthly), whether the contract is paid up to date and will list the items covered by the contract.

The Service Contract Management module is ideally suited to use in conjunction with the Call Logging facility within the Sales Ledger, when calls can be generated and allocated to contacts. The Call Logging system also allows Call numbers to be allocated to each call and a status of Completed or Outstanding assigned to each call. The system also monitors the length of time that each individual call has been outstanding. This in turn provides a simple method for monitoring the efficiency of your operation.

The combination of the Service Contract Management module with the Call Logging module of the Contact Management System provides a powerful tool for tracking and managing Service Contracts.
25. Stock Lines
Manage ranges of products that are stocked and sold in variations such as size and/or colour - ideal for managing clothing, but equally useful for a wide range of other applications, from paper to paint!
25.1 Simplify Maintenance
Each individual variant, or SKU, (for example a specific combination of size and colour) exists as a separate stock record. This means that it can have its own stock figures (for example, stock on hand, allocations, free stock, etc.) whilst Stock Attributes are used to differentiate the SKUs within the Stock Line.
Information that is applicable to the entire Stock Line is maintained once within the Stock Line itself and the information is then cascaded down to all of the individual SKUs, ensuring that the individual SKUs are always in sync. When editing an individual stock item that is a member of a Stock Line, those fields that are controlled by the Stock Line are locked and cannot be amended.
Details of what information is maintained at a Stock Line level and what information can vary for each SKU is configurable on a line-by-line basis. This means that you can have one line where the pricing is the same across all variants whereas another line may have different prices for different variants (for example sizes 2XL and above are more expensive). Similarly some Stock Attributes will inevitably vary across each SKU (for example Size and Colour) but other attributes (such as Brand) may be constant.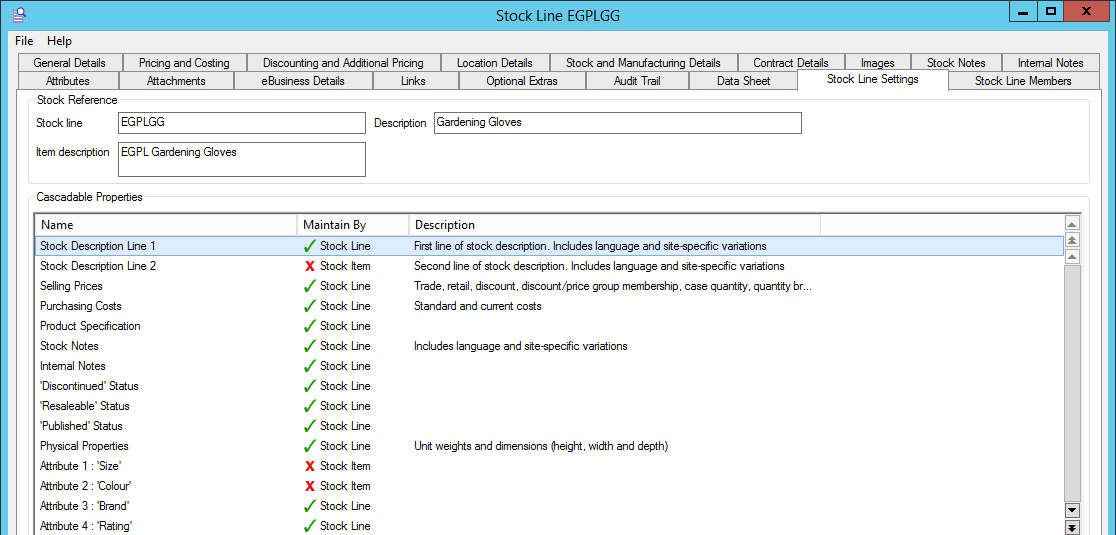 Stock Line Maintenance, indicating which fields of information are maintained at a Stock Line level and which
are maintained within each individual Item (or SKU)
25.2 Simplify Management
By grouping all of the individual items together as members of a Stock Line, it is much easier to view the availability of all of the members of the line at once. The Stock Line Members tab, for example, within Stock Line Enquiry shows the Stock on Hand, Allocated, Free Stock and On Order figures for each item.

25.3 Simplify Sales
When entering a Sales Order for a Stock Line, you simply select the specific item required by choosing the attributes (for example Size and Colour) from those available within the Stock Line.
This makes it much easier to find the correct variant since the operator does not need to search through a single long list of items (from, for example, a Stock Reference Search). It also does not rely on individual stock items being setup with a particular referencing scheme.
| | |
| --- | --- |
| | For those with axis vMerchant websites, Stock Lines also make it easier for visitors to the site to choose their specific items in a similar manner. |
26. Stock Transaction Traceability
26.1 Overview
Record and track stock items by serial number or batch number and manage Best Before dates and Warranty periods more easily.
26.2 Traceability Modes
Any stock item can be set as a traceable item, using one of three traceability modes:
Batch Traceability
The Batch Traceability mode records one set of traceability details (see fig. 1 overleaf) for each stock receipt. Stock issues may, of course, be from a mixture of batches.
Serial Number Traceability
Serial Number Traceability (see fig. 2 overleaf) works in a similar manner to Batch Number Traceability, except that the details are recorded for each individual item, rather than each whole receipt. Serial Numbers are associated with individual items and so this mode cannot be used on stock items with decimal places on quantities (because issues are then not necessarily a number of individual items).
Certificate of Conformity Traceability
CoC Traceability is similar to Batch Traceability, in that the details recorded can relate to a quantity of a stock item, rather than an individual. Additional information is recorded relating to the suppliers or manufacturers Certificate of Conformity (see fig. 3. Overleaf).
26.3 Using Traceability Details
When issuing a traceable item (such as releasing a sales invoice or using the Stock Issues function), the operator is presented with a list of the batch numbers or serial numbers of the items in stock, to choose the item(s) being issued. Traceability details may, optionally, be printed on invoices and delivery notes.
When issuing traceable items, the normal FIFO rules do not apply because the cost of the issue will be taken from the particular receipt relating to the batch or serial number being issued.
A powerful Stock Traceability Enquiry (see fig. 4) is provided, which allows traceability details to be interrogated. This allows you to find, for example, who received stock from a given batch, which serial numbers of a given item have been issued to a particular customer, or which supplier a given serial number came from.
The module also adds several reports to the Stock Reporting functions, allowing traceability history to be reported.
26.4 Enquiry Screens
| | |
| --- | --- |
| Fig 1 - Batch Traceability Details | Fig 2 - Serial Number Traceability Details |
| Fig 3 - Certificate of Conformity Details | Fig 4 - Stock Traceability Details Enquiry |
27. Sub-Contract Manufacturing
This Chapter Contains No Articles
28. Test Scheduling and Recording
Manage hire items that need regular testing and/or certification with this addition to axis diplomat's Hire Management module.
28.1 The Test Scheduling and History Recording Module
This module covers the recording of schedules as well as maintaining an on-going history of the previous test results for each capital item. Using this module to automate the majority of the administrative overhead of recording and scheduling tests will inevitably lead to a reduction in the amount of paperwork involved in this area, with the resulting benefits of increased productivity and efficiency.
With this module added to your hire system, dates may be setup for scheduling of tests required for official test certification of capital hire items. Reports are provided to show which items are becoming due for testing and/or certification.
28.2 Recording
Entry and maintenance of test information is performed in simple logical stages:
Firstly, individual test details are set-up. An example of an individual test could be "Check fuse rating in the plug of an electrical device". Each individual test item is given a reference eg. 'FUSE1'.
The entry of notepad information can be forced for certain items to record test result data. A typical example would be where an electrical test involves measuring the current output, which needs to be within a given tolerance. The test history then shows, not only if the output was within tolerance, but also its exact value. Other examples would include results of emission testing and stress testing.
Secondly, the individual tests are linked together to form a test-list. The test list is also assigned a reference, eg. 'ELECTRIC1', and various tests added to the list. The test-list will also allow the entry of a standard test frequency (in months), from which the system will automatically calculate the date when the next test is due, during recording of a sequence of tests.
Thirdly, each hire item may be allocated up to 20 test-lists. It is also possible to enter text containing safety instructions and up to three safety texts may be assigned to each test-list. These may then be printed as part of the test certificate.
28.3 Reporting
Reports are provided to see precisely what tests have been setup, and allocated to which hire items. It is also possible to print blank test record sheets, to allow an engineer to follow through a test sequence, and record all results on paper.
The results of a test run may be entered in "real-time", as each test is performed, or whenever convenient. The results can then be printed, in the form of a test certificate, immediately or at any future time.
28.4 Management
The system will retain the results of tests for as long as you wish, allowing the results of a series of tests (test histories) performed on any hire item, over a number of years, to be examined and compared, for example to indicate any degradation of performance etc.
Should you decide that you do not need to keep all previous test results, it is possible to set a particular number of test histories to be retained, for any given test-list.
The supervisor has access to functions which can purge test histories (retaining a specified number), delete hire item tests, allowing the removal of a test run entered in error, removal of all test runs for a given hire item/test-list and complete removal of all test histories and test definitions for a hire item (if the hire item is sold or scrapped for example). To make the system even easier and quicker to use, default results for tests may be setup, with options to force the operator to verify results where appropriate. Comments may also be entered optionally or the operator may be forced to enter them.
28.5 Typical Applications
Electrical Safety Testing
Load tolerance on lifting equipment
Road worthiness and MOT testing on road going equipment
Routine maintenance
29. Telephony Interface
The axis diplomat Telephony Interface module offers close integration between axis diplomat and Avaya IP Office telephony systems.
Want to know who's calling before you answer? Want customer and supplier information brought up on your screen the instant you answer a call? Like to have the system dial a customer or supplier contact for you? The Telephony interface provides these facilities and more.
29.1 Telephony Interface module
The Telephony Integration module provides market-leading CTI (Computer Telephony Integration) between 'phone system and axis diplomat .
The module enables axis diplomat to interact closely with the 'phone system to assist with the handling of both inbound and outbound calls.
Key Features
Identifies inbound callers using the axis diplomat CRM database of customer and supplier contact 'phone numbers.
'Screen-pops' directly into the customer or supplier enquiry for the caller (optional).
Dials for you when you click on a contact name within the customer or supplier enquiry contacts screen.
"Call" buttons within CRM functions provide one-click customer dialing.
Shows phone calls with time, date and duration as 'Events' against customers and suppliers.
29.2 Identifying inbound callers
When a call is received the 'phone system passes information to axis diplomat which attempts to match the calling number against all numbers which have been recorded in customer and supplier account contacts.

The result is displayed in a speech-bubble from your Windows system tray as in the illustration opposite.

If the number is unique to an individual contact (for example a mobile or DDI number) the contact's name is displayed as well as their company name
29.3 Screen-popping
Screen-popping is the automatic launching of an application based, in this case, on the identification of the caller.
Clicking the speech-bubble instructs axis diplomat to automatically launch the customer or supplier enquiry screen relevant to the caller. There's no need to find and launch the function yourself, no need to ask who's calling and no keeping the caller waiting while you find the right customer or supplier record.
You can choose to ignore the speech-bubble. It will fade away without interrupting your flow of work.
Users can configure an option to 'Pop on answer' which causes the relevent customer or supplier enquiry to be opened automatically when an inbound call is answered by that user.
The telephony module helps you to improve the speed and efficiency of call handling within your business as well as helping you to project a more professional image at the point of answer.
29.4 Dialing a contact
To make a call simply select the contact you need to 'phone from either the customer or supplier enquiry functions and click the one of the available options.

You can choose to 'phone the telephone number or a mobile number for the contact if this is recorded.

You'll see confirmation that the call be being made on screen as the number is dialed.

"Call" Buttons

Numerous functions within the axis diplomat CRM module have been Telephony enabled. With the Telephony Integration module additional "Call" buttons appear within functions such as CRM call logging and Campaign call handling.

Whether you're dealing with a sales enquiry, running a help-desk or a tele-marketing campaign this functionality speeds up dialing and eliminates mis-dials.
30. Telephony Interface: FAQs
30.1 What is CTI?
Computer Telephony Integration (CTI) is a general term used to describe interaction of phone systems with IT systems. The axis diplomat Telephony Interface module utilises the phone system's CTI capabilities to deliver its functionality.
30.2 Which telephone system(s) does the telephony interface module support?
The module supports Avaya's award winning IP Office system. Avaya is a global telephony specialist and its IP Office product is a market leading VoIP solution specifically designed for use in small and medium sized business and scales from 2 to 1,000 extensions across one or multiple geographically separate sites.
30.3 What about other systems?
There are many different telephony systems on the market all with varying software interfaces. Developing comprehensive integration with a system and then testing and supporting the interface is an expensive and time consuming exercise. Although it is possible that other systems will be supported in the future axisfirst does not currently have any plans to extend support beyond Avaya IP Office.
If you are interested in commissioning integration work with an alternative system then please discuss your requirements with us. It may however prove more pragmatic (and significantly less expensive) to consider deploying an Avaya IP Office system.
30.4 Does the functionality work over remote links, for example with home workers?
Where a user is connected from a remote site then, providing that they are connected as a terminal services (RDP) client, the telephony integration module will function in the same way as if they were working locally to the axis diplomat system.
Home workers can therefore be an extension onto the office 'phone system and share the same benefits from the telephony integration module as their office based colleagues.
30.5 How is the telephony interface licensed?
Any axis diplomat system within mainstream support can have the telephony interface added. You'll need the telephony interface module license and a telephony client license for each of your licensed axis diplomat users.
30.6 Can I license just some of my AXIS Diplomat users for the telephony interface?
No. The number of telephony integration client licenses must match the number of licensed users on your axis diplomat system.
30.7 Does the telephony interface work with thin clients (Windows terminals)?
Yes. The module was specifically designed and tested to work with Windows terminals on Windows Terminal Services. You will however require the Avaya third party TAPI driver software license, a chargeable addition to the Avaya IP Office system.
30.8 How does axisfirst provide support for the telephony interface module?
The telephony module is simply added to the list of licensed modules on your axis diplomat software support contract. The support contract provides unlimited helpdesk telephone support as well as access via email and web to assist in using the functionality the module provides. axis first is an Avaya Business Partner and Microsoft Certified Partner enabling us to escalate any issues outside of our control to a third party software vendor.
31. Voice Recording Interface
The axis diplomat Voice Recording Interface offers close integration between axis diplomat and Avaya's call recording solution for IP Office, Voicemail Pro.
This module builds on the facilities provided by the axis diplomat telephony interface feature to link call recordings to customers or suppliers and gives users a simple interface to access these recordings within customer or supplier enquiries.
31.1 Voice Recording Interface module
The Voice Recording Interface module provides market-leading integration between call recordings and axis diplomat.
Key Features
Compresses and archives the call recordings made by your phone system
Links call recordings (together with call details) with axis diplomat customers and suppliers via the account and contact 'phone numbers
Plays back a call on demand simply and easily from axis diplomat's call and event screens within customer and supplier enquiry fucntions
Provides ability to download a copy of the recording
Restricts access to call recordings by axis diplomat user or user group
31.2 Completing the Customer Relationship Management "picture"
axis diplomat provides sophisticated CRM facilities as standard allowing users to log details of issues/incidents against individual contacts, log subsequent events and assign responsibility and priority.

Build on this capability to also show details of phone calls made to, and received from, customers (and suppliers) with the Telephony Integration feature and extend this further to link in the actual recordings of these calls with the Voice Recording Interface module.

Add in the axis diplomat Archiver interface module to link and drill-down into outbound and inbound emails within customer and supplier accounts.

axis diplomat brings together information entered by your users, their emails and their phone calls into a single unified interface providing unsurpassed relationship management fucntionality for todays' competitive environments.
31.3 Training and dispute resolution tool
You may have deployed voice recording solutions in the past but were they used to deliver benifits to the business?
Instead of leaving recording 'gathering dust' because staff don't know that they exists how to access them, the ease of access provided by the axis diplomat Voice Recording Interface combined with the security of granting access to recordings by individual axis diplomat user (or group) means that supervisors and managers in your business can really start to use this valuable training and dispute resolution tool.
31.4 Accessing a recording
To view the list of recordings for a given customer or supplier, select the 'Events' tab on the axis diplomat customer or supplier acount. If you've been granted access rights to play call recordings you'll see the speaker icon against each call for which a recording exists (the existence of a recording for any particular call will be determined by the configuration of your phone system).

Simply select the phone call from the list and select 'Play'. The recording is played through your PC's speaker using your default media player.
32. Workshop Job Management
The axis diplomat Workshop Job Management module is designed to provide a simple method of booking, controlling and invoicing workshop jobs.
32.1 The Workshop Job Management module
The Workshop Job Management module allows jobs to be entered, in a similar way to orders, and then to book costs (labour and parts) against those jobs. Invoices can be raised for given jobs based on the costs booked against them.
Workshop Jobs may be entered as batches or on an individual basis and are recorded against a particular Customer Account. Customer Discounts and Settlement Terms are picked up from the Customer Account but may be amended if required. Both customers references and internal references may also be recorded against each job. Jobs may be recorded using Trade or Retail Prices and space is also provided to record Job Status and Instructions/Notes.
Labour lines can be added at any time and any labour charges will be consolidated at the foot of the invoice produced.
32.2 Workshop Job Reports
A wide range of Workshop Job Reports are available, including:
Outstanding Job List
Total Job List
Outstanding Jobs by Product / Customer
Jobs by Product / Customer
Job Profitability by Customer
Workshop Job Enquiry
32.3 Workshop Job Reports cont…
Enquiries can be made on a particular job with the job being selectable by job number or by customer order number - this is particularly useful when customers call to enquire about the progress of their orders. A Workshop Job Status Enquiry gives current status information on any job and gives information about the number of items currently outstanding and their due dates etc.
A Job Sheet Print function offers an opportunity to extract any Job in the form of a paper copy.
After the initial job has been entered, labour charges can be booked against the job at any time. This function can be used as many times as necessary and all labour costs will be consolidated at the foot of any invoice produced. In this way labour can be booked onto the Job at the time that work is done. In a similar way, parts and materials used in the job can also be booked to a job, either as a batch or as they are used.
32.4 Invoice Creation
When invoicing takes place, the current stock on hand for each item (parts and materials) is reduced by the quantity of any stock released. However, exceptions to this rule do exist and are covered under part deliveries. When invoices are raised, the option to allow Part Deliveries is provided. If Part Deliveries are permitted, then part release of jobs will continue for items held in stock. If they are not permitted, then the release of any item on the job will be halted if that item cannot be fully delivered.
Completed and invoiced jobs will remain on the system for reporting purposes until such time as the function "Remove Completed Jobs" is run to remove them.