axis diplomat 2010 for Accounts and for Business
axis diplomat 2010 is divided into a number of modules including Accounts, Hire Management, Sales and Purchase Order Processing, MRP, Manufacturing, Foreign Currency and Point of Sale.
Additional modules and client licences can be added at any time, which means that the system grows with your business. From a single user Accounts system to a one hundred user warehousing, manufacturing or mail order processing system, axis diplomat 2010 remains totally scalable.
Run your axis diplomat 2010 system on industry-standard platforms - please see our Support Environments page for the latest information on which versions and editions of which operating systems are supported.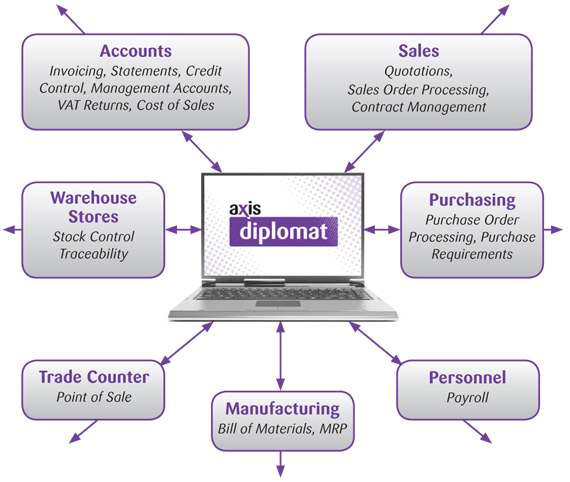 Every axis diplomat 2010 Accounts system includes, as standard, a massive range of standard facilities, including:
Sales, Purchase and Nominal Ledgers
Cash Book
Invoicing
Budgeting
Business Intelligence
CRM (Contact Management)
Stock
Data Security (Backup) Facilities
Operator Security
Reflecting the fact that the majority of systems usually require Sales Order Processing and Purchase Order Processing, there is also an axis diplomat 2010 Value Pack available which, in addition to the items listed above, includes the first Client Licence and both the Sales Order Processing and Purchase Order Processing modules.
For further information on how axis diplomat 2010 software is licensed, please visit the axis diplomat 2010 Software Licensing Frequently Asked Questions page.
A range of Fact Sheets are available which describe in more detail specifc areas of axis diplomat 2010 that are included as standard, as well as Fact Sheets on additional optional modules.
What would you like to do now?